More than 100 models sign an open letter calling for safer workplaces amid fashion's #MeToo moment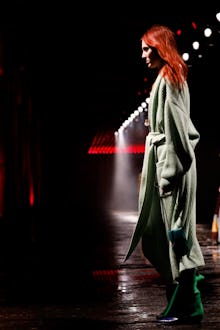 The fashion industry is having its own kind of #MeToo revolution, and the models are the ones who are leading the call for change.
On Wednesday, in partnership with the model advocacy and research group Model Alliance, more than 100 models signed an open letter to the fashion industry calling for more respect and demanding accountability for sexual misconduct within the industry.
This comes after major fashion photographers Mario Testino and Bruce Weber were accused by several models and assistants of sexual exploitation in a story from the New York Times, years of sexual abuse allegations against fellow fashion photographer favorite Terry Richardson and multiple models — including Kate Upton and Teddy Quinlivan — came forward with their own stories of abuse on set these past few months.
The models who signed the open letter — which includes Quinlivan, Milla Jovovich and Karen Elson — are also calling for a binding agreement, called the Respect Program, between models, brands, agencies and media companies to hold people more accountable for the mistreatment and abuse of models.
"Every company in our industry says it abhors sexual harassment and wants to protect those at risk of abuse," the letter reads. "We believe that if a company is serious about protecting us, it will be willing to go beyond mere promises to do better and embrace enforceable standards, with real teeth."
Outlined in a blueprint, steps in the program include: educating models of their rights, protecting transparency and models' right to speak up and even addressing economic vulnerability within the industry.
"This doesn't have to stifle creative freedom within the business," Karen Elson wrote on Instagram. "Creative freedom shouldn't come at the expense of others being mistreated. We can do better and we must hear the concerns of those young women and men who walk on set not feeling protected."
Prior to this, there had been some organizations within fashion that pledged to reform their own policies — including Condé Nast, Hearst and LVMH — to curb abuse and mistreatment. This is the first time so many models have come together in agreement, with their own program and set of goals, to force change within the industry.
Mic has reached out to Sara Ziff, the founder of Model Alliance, for comment.