A whopping one-third of models in spring ad campaigns were models of color, new report says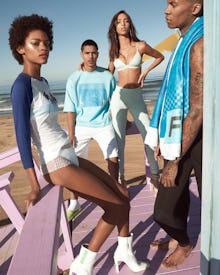 The encouraging trend of more and more models of color appearing on the runway has spread to the pages of your magazines too. In a new report from the Fashion Spot, spring 2018 print ad campaigns were the most racially diverse on record.
After assessing 218 spring print ads, starring a total of 541 models, the Fashion Spot found that 34% of the models featured were nonwhite, which is a 1.2% improvement from Fall 2017.
This not just the fifth consecutive season that this number has risen, but also the second season in a row that racial diversity in ad campaigns bested the diversity on the latest runways. The fall 2018 runways featured models of color in 32.5% of all model appearances.
Among the nine most-booked models for campaigns, four were models of color, as categorized by the Fashion Spot, including Gigi Hadid, Bella Hadid, Aube Jolicoeur and Shanelle Nyasiase.
As far as the most diverse campaigns, that honor goes to Fenty x Puma and Moschino, which both cast exclusively models of color. Kenzo hired 80% models of color, while two-in-three models cast in Net-a-Porter, Gap, Bottega Veneta, Burberry and Tommy Hilfiger campaigns were models of color.
Now here's the bad news: The number of plus-size castings in campaigns remains at a standstill. Spring 2018 is the third season in a row that there were just 10 plus or curve models cast in campaigns.
Plus models who managed to get a campaign, most of which were for plus-size or mass-market brands, include Marquita Pring for Gloria Vanderbilt, Emme, Bree Kish and Philomena Kwao for Lane Bryant and Ashley Graham for Marina Rinaldi.
Graham also nabbed the only luxury campaign: Rag & Bone.
"I continue to be surprised that brands aren't embracing the curve customer," Jennifer Davidson, the editor-in-chief of the Fashion Spot, said in an email. "Not only does it make sense from a business standpoint, since they comprise such a large percentage of the market, but it makes sense from a social standpoint. The body-positive movement continues to gain steam and it's clear that women of all sizes want to be recognized and represented. By continuously excluding plus-size women from campaigns and runways, brands are sending a message that they don't care about them as customers."
Also a bummer: The number of transgender and nonbinary models cast in campaigns took a hit. Just four models who identify as transgender or nonbinary landed in a Spring 2018 fashion campaign, which is down from six in the fall.
Ariel Nicholson Murtagh appeared in two Calvin Klein campaigns, Josephine Jones landed Nordstrom and Stav Strashko appeared in a River Island campaign. No transgender or nonbinary models of color were cast in any campaign.
Despite incredibly encouraging racial diversity progress in campaigns, clearly there's more work to be done to convince brands that people really do want to see curve and plus models, and trans and nonbinary ones as well.
"Next season, I hope to see brands truly embrace the spectrum of women that buy their clothes," Davidson said. "That includes women of all sizes, ages and orientations — not just color."