Nespresso has found a new way to recycle its aluminum coffee capsules: fancy Swiss pens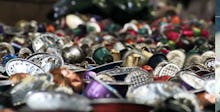 Single-serving coffee pods may be effortless and convenient, but they also pose the risk of contributing to the planet's extreme garbage problem.
Nespresso is one of the largest producers of single-serving coffee pods, but thankfully, its fans are not imposing additional waste with their coffee habit. Nespresso capsules are made from aluminum — not plastic — and can be continuously recycled. Consumers are encouraged to recycle their used coffee capsules at any Nespresso boutique or can order a free recycling bag to fill and drop off at UPS.
Of course, recycling requires some aspect of consumer responsibility. Nespresso drinkers could just as easily toss their capsules into the trash — but surely there's some coffee karma inflicted on those who commit such acts against the earth. Upon receiving the used capsules, Nespresso's partners separate the aluminum from the coffee grounds.
"The coffee grounds are either turned into nutrient-rich compost and topsoil or turned into biogas," a Nespresso spokesperson said in an email. "The aluminum is processed and, ultimately, reused to produce new products."
Most recently, Nespresso created a limited edition pen made from its recycled aluminum capsules in partnership with Swiss pen company Caran d'Ache. The classy ballpoint pen, which will be available starting May 26, will set you back $54, which is on par with what you'll end up spending on a random, last-minute gift for Father's Day.
In 2015, Nespresso launched the Second Life pilot project in Switzerland with the intention to create new items from recycled Nespresso aluminum. In 2016, the company partnered with Victorinox to produce the first Swiss army knife made from used capsules.
Nespresso has been a sustainable coffee product for some time: The company founded its first recycling program in 1991, and works with 39 countries to transform the aluminum pods. In this sense, Nespresso is ahead in the sustainability game. One of its major competitors, Keurig, is responsible for so many of its popular K-Cups ending up in landfills, that its inventor once said, "I feel bad sometimes that I ever did it." Granted, Keurig is pursuing a fix. By the end of the year, all of the K-Cups produced in Canada will reportedly be recyclable, and by 2020, all new K-Cups will be green.
It's worth pointing out that sustainability isn't exclusively a coffee pod or capsule problem. Starbucks' iconic green-mermaid-stamped cups aren't fully recyclable: The coffee giant sells around 6 billion non-recyclable cups annually. The company is also in search of a solution, but it unfortunately won't be able to retroactively retrieve the 2 billion plastic straws it contributes to landfills every year.
The good news is that an expanding number of consumers are pushing retailers to provide more sustainable options, and as this trend continues to increase, so too will the options for eco-friendly coffee drinking. Some simple fixes include ditching plastic straws completely, composting coffee grounds and drinking from a reusable mug rather than wasting a paper cup every time a caffeine fix comes calling.