What did Melania Trump wear her 69th week as first lady? Well, she was in the hospital.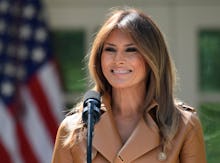 Our job of tracking everything Melania Trump wears is a bit harder this week. If you didn't already know, Trump was hospitalized Monday for a procedure to treat a benign kidney condition.
She's the first first lady since Nancy Reagan to undergo such a serious medical procedure while in the White House. Trump, whose husband reportedly visited her three times, hopped on Twitter just once to tell everyone she was "feeling great."
Because Trump didn't appear in public the weekend before her surgery, we can only assume she kicked off her Louboutins and wore her most comfortable attire over the past few days, as she should.
Hopefully, next week will be back to normal.
You can read previous recaps of what Melania Trump wore here.