Naomi, Winnie, Thandie, Kristen, Cate and all the rest of the 2018 Cannes Film Festival best dressed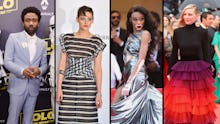 As we've noted before, the fashion at the Cannes Film Festival rarely disappoints. With all the glitz and glamour of the week, celebrities tend to go all out.
Luckily this year has been no different, with several amazing fashion moments from people like Winnie Harlow, Kristen Stewart (who brought a rattail to the red carpet — and dared to go barefoot) and Cate Blanchett.
Here are some of our favorites from the past few days:
Naomi Campbell in Poiret
Donald Glover in Gucci
Emilia Clarke in Dior
Diane Kruger in Prada
Kristen Stewart in Chanel, repeatedly
Léa Seydoux
Cate Blanchett in Givenchy
Cate Blanchett in Givenchy
Chloë Sevigny in Chanel
Mila Jovovich in Prada