The US birth rate is the lowest in 30 years, but what's the cause of this downtick?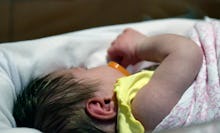 The birth rate in the U.S. is at its lowest in 30 years, according to a new report detailing 2017 births from the Centers for Disease Control and Prevention. There were 3,853,472 births in 2017, a 2% drop from 2016 figures (3,945,875).
The latest data show that women overall are having children less and increasingly giving birth later in life.
Teens between the ages of 15 to 19 had the greatest birth rate dip between 2016 and 2017, compared to other age groups documented. Of this group, there were 18.8 births per 1,000 women, a 7% drop since 2016.
Women in their 20s had the second largest decrease in birth rates since 2016. Both age groups 20 to 24 (71 births per 1,000 women) and 25 to 29 (97.9 births per 1,000 women) gave birth at a rate of 4% less since 2016.
Women ages 30 to 34 maintained the highest birth rates at 100.3 births per 1,000 women. But their birth rates were down 2% since 2016. The data also showed that women 35 and older gave birth around the same or at a higher rate compared to women in their age group in 2016. Those 35 to 39 had 52.2 births per 1,000 women. The number of total births for this group increased by 1%.
For women aged 40 to 44, there was a 2% rate increase at 11.6 births per 1,000 women. Women ages 45 to 49 had a rate of 0.9 births per 1,000 women. The number of births to women in their late 40s went up by 3% since 2016, which was the largest percentage increase of any group.
Renee Bracey Sherman, senior public affairs manager at the National Network of Abortion Funds — which helps remove financial barriers to abortion for women — says a reason the birth rate has decreased to a 30-year low is because of the advancement and variety of reproductive technology now available to women. Plan B medication and medical abortions are all options that have been approved by the FDA in the past 30 years. Since 2013, three newer IUD products — Skyla, Liletta, and Kyleena — were approved by the FDA that could be used by women with or without children.
Because of these methods, "people are able to delay parenthood to when they are ready and financially stable and that means they may make arrangements a little bit later," Bracey Sherman said.
"But also reproductive technology like IVF, and other technologies have made it so that people are able to have pregnancies later in life and later in their reproductive years."
Birth and fertility rates by race and Hispanic origin were not available for publication, the CDC report stated. The health organization did provide a breakdown of maternal outcomes such as prenatal care, Cesarean delivery, preterm births and low birthweight, by race. And there are disparities across the board.
When it comes to prenatal care, 77.3% of women received first trimester care in 2017, up from 77.1% of women in 2016. 82.5% of white women received care in 2017 compared to 66.6% of black women; 63.5% of American Indian or Alaska native women; 81.1% of Asian women, 52.1% of Native Hawaiian or Pacific Islander; and 72.3% of Hispanic women.
Cesarean deliveries accounted for 32% of births in 2017, up from 31.9% in 2016. Black women had the highest rate of Cesarean deliveries at 36%, compared to white women who had a Cesarean delivery rate of 30.9% and Asian women who had a rate of 33.3%
Preterm births, defined in the report as delivery under 37 weeks, was 9.93% of all births last year. Black women had the highest rate of preterm births at 13.92%.
There were also higher instances of low birthweight. In 2017, women delivered a baby weighing less than 5 pounds and 8 ounces, which is how the report defines low birthweight, at a rate of 8.27%, compared to 8.17% in 2016. For black women, this number is significantly higher than other races, at 13.88%.
In an April interview with Mic reproductive justice activists, such as Elizabeth Dawes Gay, the steering committee chair of the Black Mamas Matter Alliance, called more attention to how racism drives disparities in maternal outcomes.
"I think one of the messages that we're trying to push through the conversation overall is the role of racism and racial discrimination [on black maternal health] and the importance of acknowledging that and naming that," Gay said.