Trump wants to expose an FBI informant he claims spied on his campaign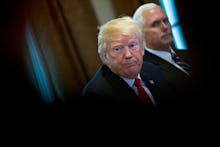 Welcome to Mic's daily read on Donald Trump's America. Want to receive this as a daily email in your inbox? Subscribe here.
Good morning from Emily Singer at Mic.
Here's what's happening in Trump's America:
• Trump will announce a new policy that, for all intents and purposes, would defund Planned Parenthood. A time has not yet been given for the announcement.
About last night: Trump wants to expose an FBI informant
President Donald Trump as well as GOP allies in Congress and on cable news are waging an effort to expose an FBI informant who Trump claims spied on his 2016 campaign, the Washington Post reported.
The move is the latest effort by Trump and other Republicans to undercut special counsel Robert Mueller's Russia probe, which has now just entered its second year.
According to the Washington Post, the FBI informant "provided information early in the FBI investigation of connections between Russia and the Trump campaign."
The New York Times reported that a government informant met multiple times with former Trump campaign advisers Carter Page and George Papadopoulos — two of the men whose actions helped spark Mueller's investigation in the first place.
FBI Director Christopher Wray said at a Wednesday hearing on Capitol Hill that exposing FBI informants is dangerous.
"The day that we can't protect human sources is the day the American people start becoming less safe," Wray said at the hearing, according to CNN. "Human sources in particular who put themselves at great risk to work with us and with our foreign partners have to be able to trust that we're going to protect their identities and in many cases their lives and the lives of their families."
But that hasn't stopped Trump from railing against the informant on Twitter.
"Wow, word seems to be coming out that the Obama FBI 'SPIED ON THE TRUMP CAMPAIGN WITH AN EMBEDDED INFORMANT,'" Trump tweeted Thursday. "Andrew McCarthy says, 'There's probably no doubt that they had at least one confidential informant in the campaign.' If so, this is bigger than Watergate!"
Trump continued to tweet about the informant Friday morning, posting a quote from a man who appeared on Fox News.
?'Apparently the DOJ put a Spy in the Trump Campaign. This has never been done before and by any means necessary, they are out to frame Donald Trump for crimes he didn't commit.' David Asman @LouDobbs @GreggJarrett," Trump tweeted. "Really bad stuff!"
Today in Trump's America: Trump to bring back Reagan-era abortion gag rule
President Donald Trump will announce a new policy Friday that would strip federal funds from clinics that either offer abortion services or refer patients to clinics that provide abortions It is policy that is directly aimed at Planned Parenthood, the New York Times reported.
The policy was first created by former President Ronald Reagan in 1988. Described as a domestic gag rule, the policy required family planning clinics to have "physical separation" and "separate personnel" for abortion services, according to the Times.
The move will likely spark legal challenges, but it's being cheered by anti-abortion access advocates.
"We thank President Trump for taking action to disentangle taxpayers from the abortion business," Susan B. Anthony List President Marjorie Dannenfelser said in a statement.
"President Trump has shown decisive leadership, delivering on a key promise to pro-life voters who worked so hard to elect him," Dannenfelser added. "This is a major victory which will energize the grassroots as we head into the critical midterm elections."
Pro-abortion rights groups are already condemning the policy
"This 'gag rule' is not only unconscionable, but it undermines medical ethics by forcing health care professionals to withhold accurate and timely medical information from patients," Dr. Jenn Conti, fellow with Physicians for Reproductive Health, said in a statement to Mic. "As a provider of comprehensive reproductive health care, it is my No. 1 priority to keep my patients safe and honor the trust they give me. If I can't mention the word 'abortion,' then I am not providing my pregnant patients who want to know all of their options with complete, accurate, unbiased medical information."
Capitol Hill happenings: The House will vote on the farm bill
House Republicans are set to vote on their controversial farm bill Friday, which would create a five-year agriculture policy if passed.
The bill, however, is being held up by members of the conservative House Freedom Caucus, which is using the vote as leverage to force a vote on a conservative immigration bill, according to CNN.
Democrats, for their part, will vote against the farm bill en masse, thanks to changes to the Supplemental Nutrition Assistance Program, better known as food stamps. The Republican-drafted farm bill would require recipients who are parents of school-age children to work until age 59 — the current age limit is 49 — as well as increase the number of weekly work hours required.
The nonpartisan Congressional Budget Office says the changes to SNAP would cause an average of 1.2 million Americans per month to lose their food stamps. The average annual amount those people would lose would amount to $1,816, according to the CBO.
And the rest…
Man fires shots at Trump resort: A man "yelling" about President Trump fired shots in the lobby of Trump National Doral Golf Club, one of the president's properties near Miami, CNN reported. One officer suffered "non-firearm-related injuries," according to CNN.
Communications crackdown: Trump is cracking down on leaks from his communications staff by limiting the number of people invited to the White House's daily meeting, the New York Times reported. The move is in response to the leak of a cruel joke that one of his communications aides made about Sen. John McCain (R-Ariz.). The White House has yet to publicly apologize to McCain, who is battling brain cancer.
Bill Gates: Microsoft founder Bill Gates said at an event hosted by the Bill and Melinda Gates Foundation that Trump didn't know the difference between HPV and HIV, according to footage obtained by MSNBC's Chris Hayes. HPV is the virus that can cause genital warts and cervical cancer, while HIV is the virus that can lead to AIDS.
Rudy: Trump lawyer Rudy Giuliani got into a minor accident in New York Thursday after he opened his car door and hit a pedicab, WCBS Newsradio 880?s Alex Silverman reported.
Laurel or Yanny?: The White House made a parody video about the viral debate — which means the debate has now, two days after taking the web by storm, officially jumped the shark.