How Planned Parenthood aims to fight back against Trump's abortion "gag rule"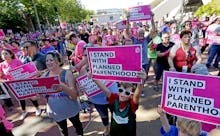 The Trump administration is continuing its war against Planned Parenthood and other abortion providers on Friday, as the Department of Health and Human Services reportedly plans to announce a new proposal targeting health clinics that receive federal Title X funding for family planning services.
Planned Parenthood, however, won't accept the new policy without a fight.
Though U.S. law already bans federal funding being used for abortions through either Medicaid or Title X funding, the new policy would go one step further in its withholding of funds to abortion providers. Under the new proposal, which will reportedly be titled the "Protect Life" rule, health clinics that perform abortions would be required to have a "physical separation" between its federally-funded family planning activities and abortion services, along with "separate personnel."
The proposed policy, which has been characterized as a "gag rule," is a return to one previously instituted in 1988 under President Ronald Reagan, which was later repealed by President Bill Clinton in 1994. Administration officials have said that unlike the Reagan-era policy, the proposal will not prohibit health care providers from counseling patients about abortion as a possible option, as opponents had previously feared.
Planned Parenthood officials believe, however, the proposal would roll back a requirement for health care providers to give information on the full range of pregnancy options available to patients — including abortion — and will prohibit providers from referring patients to an abortion provider.
"For nearly two decades, the Title X law has been clear: Health care providers cannot withhold information from you about your pregnancy options. That includes information on abortion," Planned Parenthood senior policy analyst Kashif Syed said Friday. "And this rule, what it would really do is roll back that two decade-long guarantee, that right that patients have to get full information about their options."
"The harm would be immense," Syed predicted.
Trump already imposed a global "gag rule" days into his presidency, which stripped federal aid for international organizations who perform or promote abortions. While the January executive order reinstated the ban previously imposed by past administrations, in May 2017, the administration expanded the gag rule further, applying its funding ban to cover $8.8 billion in global health funding, as compared with $600 million under the George W. Bush administration.
In February 2018, Time reported that the funding policy was already having disastrous effects, resulting in shuttered clinics and rises in unwanted pregnancies and unsafe abortions. The International Planned Parenthood Federation estimated that the $100 million in funding they lost because of the rule likely could have prevented 20,000 maternal deaths in 29 countries, and funding cuts to international abortion and contraception provider Marie Stopes International are projected to result in 2.5 million unintended pregnancies and 6,900 maternal deaths.
Planned Parenthood has already begun its fight against the proposed domestic "gag rule," joining a coalition of more than 110 public health organizations Wednesday in a letter to HHS Secretary Alex Azar urging him not to adopt the new policy. As the largest nationwide care provider through Title X, Planned Parenthood serves 41% of the 4 million patients who rely on Title X annually and receives approximately $60 million in Title X grants as of 2015.
The proposed policy has also been decried by the American College of Physicians and the American College of Obstetricians and Gynecologists. More than 200 Democratic lawmakers in Congress also sent their own letter to Azar opposing the policy on Tuesday.
Planned Parenthood vowed Friday to continue its efforts as the proposal moves forward. Organization officials noted that before it can take effect, the new rule will likely go through a months-long rule making process through the Office of Management and Budget, which includes a public comment period.
"[Planned Parenthood] will resist this rule through the rule-making process and through standing up and mobilizing all of the large number of people who recognize this as terrible medicine for women and for this country at large," Planned Parenthood Federation of America executive vice president Dawn Laguens told reporters Friday.
"We will also be thinking about how to support women and our patients in getting this care," Laguens added. "We will never turn our back on providing the full range of reproductive health care."
Laguens added that the organization was not currently preparing to implement the physically separated facilities that would be required under the new policy.
"Planned Parenthood is not planning at this time to do anything that would indicate or show or communicate that the full range of women's health services aren't necessary or important," Laguens said.
Carrie Flaxman, the organization's deputy director of public policy litigation and law, did not rule out legal action against the policy as a potential possibility, though Planned Parenthood is waiting on receiving the proposal's official language before taking concrete action.
"As always, we will do everything we can to fight for our patients and ensure that all can continue to access the care they need through us and through the Title X program," Flaxman said Friday.
The new HHS proposal isn't the only policy Planned Parenthood is currently fighting. The organization also recently filed a preliminary injunction against the HHS in response to other changes to Title X — including a push for funded organizations to promote abstinence-only policies. On Tuesday, 20 state attorneys general supported the injunction by filing an amicus brief.
Planned Parenthood and the ACLU of Iowa also filed suit this week against Iowa's recently-passed abortion ban, which prohibits most abortions after six weeks into the pregnancy — a policy so restrictive that even the state's attorney general won't defend it in court.
"Enough is enough," Laguens said about the Iowa lawsuit, as quoted by NPR. "We will not back down until every person has the freedom and opportunity to make the health care decisions that are best for them and their families."