Suspect named in Texas high school shooting, as many as 10 dead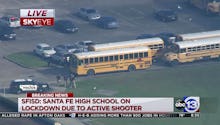 The governor of Texas said on Friday that 10 people were killed and 13 others were injured after a shooter opened fire inside a high school southeast of Houston, where police later found explosive devices hidden around campus.
"We grieve for the victims who lost their lives at Santa Fe High School," Gov. Greg Abbott said at a press conference.
Law enforcement officials have identified the suspected shooter as 17-year-old Santa Fe resident Dimitrios Pagourtzis, whose since-deleted Facebook page suggests that he identified with white supremacist groups.
Earlier on Friday, Harris County Sheriff Ed Gonzalez had confirmed at a press briefing that authorities had one suspect in custody and a "person of interest" had also been detained in connection to the Santa Fe High School shooting. In addition to the fatalities, he said, multiple victims, including a police officer, were being treated for injuries.
Abbott confirmed that "neither of [the weapons used to commit the shooting] were owned or legally possessed by the shooter," and said that it appeared that Pagourtzis had obtained the firearms from his father.
At a separate press conference Friday, Santa Fe Independent School District Police Chief Walter Braun said officers had also discovered explosive devices on the high school's campus and in the surrounding area. A source who spoke to CBS described the devices as "pressure cookers and pipe bombs." Braun urged community members to be vigilant and to call 911 to report any suspicious-seeming devices.
School district superintendent Leigh Wall said in a statement that the community had experienced an "unthinkable tragedy."
"It is with great sadness that I share with you that we experienced an unthinkable tragedy at our high school this morning," Wall said. "We are grieving the loss of members of our SFISD family. We have received an outpouring of support from across the state, and we appreciate your continued prayers for our students, staff and community."
Aerial images from the scene showed students lining up outside as law enforcement swarmed the scene.
President Donald Trump responded to the shooting on Twitter.
"School shooting in Texas," he wrote. "Early reports not looking good. God bless all!"
May 18, 2018, 5:00 p.m.: This story has been updated.