Napa's wineries are finally serving good food — and it's all because of some very outdated laws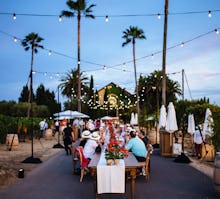 Pairing good food with great wine is one of the world's most classical exercises: The Romans were practicing it over 2,000 years ago; the French have basically built their entire culture around the tradition. It follows, then, that Napa, California — America's winemaking capital — should be showcasing some of the country's most capable cuisine.
At the southern end of the valley, Napa (population: 80,000) is the biggest town along the wine trail. Yet it's perennially overshadowed from a culinary perspective. Yountville, as a famous example, holds less than 3,500 residents — and six Michelin stars.
But now, Napa's wineries are investing in chefs tasked with highlighting wines with thoughtful food pairings. At the same time, downtown Napa is seeing a spate of exciting restaurant and bar openings.
A new focus on winery food
Surrounding the city of Napa are some of the wine world's most elaborate visitors centers — stunning structures of steel and glass, protruding gracefully above wide swaths of vine. They hold patios, lounges and sprawling bar spaces. Conspicuously absent here, however, are kitchens — which is no mere coincidence. It's actually a function of legality. In 1990, Napa County created the Winery Definition Ordinance. It barred post-1980 wineries from hosting events that aren't specifically designed to promote wine sales.
In other words: wineries weren't able to operate restaurants. Except, that is, in instances involving educational food and wine pairings. It seems like a large enough loophole to drive a banquet hall-sized truck through, but the law forbids food tastings from generating revenue. Any associated charges must simply offset the cost of the experience. Wineries willing to invest in expensive equipment, accomplished chefs and all the hassle associated with running a restaurant are few, since that restaurant is expressly prohibited from turning a profit.
Now, wineries are finally seeing the value in creating educational food and wine tastings where the food is just as much the star. Stag's Leap Wine Cellars is one of the few places that can rationalize this kind of endeavor. Legendary for its award-winning cabernet sauvignon, the winery is one of the valley's biggest draws. In July, chef Travis Westrope, a self-professed "culinary mercenary" of Napa Valley, settled down at Stag's Leap and formed The Cellarius Kitchen Experience (just don't call it a restaurant — visitors tour the caves and the property as well.)
The four-course educational tasting pairs a daily rotation of freshly prepared dishes with some of California's most sought after cabernets. "The best part of this job is the freedom and creativity I am afforded," said Westrope. "Being a winery, I have no cuisine restrictions; if I want to create a dish in Japanese, French or Italian, I can — as long as we are enhancing the wines and the wine-tasting experience." To that end, he uses a sharply spiced Linguica sausage to battle the winery's assertive 2014 vintage; their flagship Cask 23 coaxes out the garlic and game in a lightly seared lamb chop. The intimate dining experience is available for weekday lunch (excluding Wednesdays), and only by reservation.
Napa is realizing its potential and re-imagining itself with a sense of culinary confidence. Visitors can finally expect a food scene befitting the country's finest wines, with no reservations.
Cellarius is joined by comparable arrangements at Round Pond Estate, which offers an al fresco garden luncheon, and the new Ashes & Diamonds, where the winery's six-bottle portfolio is poured with wood-fired fare. Both require advance notice to secure.
On the outskirts of Napa proper, these well-crafted workarounds highlight the absurdities of the county's woefully antiquated ordinance. They also provide a sneak peek into the wondrous wine pairings that await if the law is revoked.
Restaurants in downtown Napa
In the meantime, downtown is investing in itself like never before. Although there's been hopeful times in the past — and many a once-exciting, now-shuttered restaurant to show for it — this time feels different. Napa is realizing its potential and reimagining itself with a sense of culinary confidence. Visitors can finally expect a food scene befitting the country's finest wines, with no reservations.
One of Napa's first steps in evolving into a food destination was to establish luxe lodging. At the end of 2017, the 183-room Archer Hotel opened its doors to great fanfare. It is part of a 325,000 square-foot development project known as "First Street Napa," which intends to bring dozens of shops and restaurants into the historic downtown corridor. Above the five-story property is the Sky & Vine Rooftop Bar. Small plates such as braised octopus and locally sourced cheese and cured meats arrive here alongside glasses of chardonnay and cabernet — under a panoramic view of the wineries that produced them.
Downstairs, adjacent to a sleek, lofted lobby, is Charlie Palmer Steak — an urban steakhouse serving sizzling cuts of dry-aged protein. Finally, a city practically bathing in big, bold red wines has access to the fatty, marbled red meats necessary to tame them.
Finally, there's the newest outpost of Stone Brewing, holding down a historic brick-clad warehouse along 3rd Street. In its original address in San Diego County, one of California's biggest producers of craft beer established its dedication to elevated pub grub. And the dining experience here is no different, emphasizing sustainably sourced, small-farm organics and local produce. That they were willing to mark their first Northern Californian expansion in this part of the world bodes well for a region that's making a name for itself beyond wine.