Farm bill fails in the House as some Republican lawmakers demand immigration vote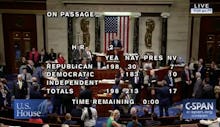 The House of Representatives failed to pass a farm bill Friday after 30 Republicans joined 183 Democrats in voting no.
Drafted by GOP lawmakers, the farm bill would have added stricter work requirements to the Supplemental Nutrition Assistance Program, better known as food stamps, that could have eliminated or reduced SNAP benefits for more than 1 million households, according to an analysis by the nonpartisan Congressional Budget Office.
Democrats said the bill unfairly targeted poor Americans. But the 30 Republican representatives who voted against the bill did so for a different reason: They wanted assurances a conservative immigration bill would be brought up for a vote in the House.
The failure to pass the farm bill is a blow to both President Donald Trump and House Speaker Paul Ryan.
Trump tweeted his support of the farm bill Thursday, touting the bill's expanded work requirements that would have required parents of school-age children to work until age 59. (The current age limit is 49.) The bill would have also increased the number of hours recipients needed to work to receive food stamps.
The CBO said the bill would have caused an average of 1.2 million Americans per month to lose food stamp access — amounting to an average annual loss in benefits of $1,816 by 2028.
"Tomorrow, the House will vote on a strong Farm Bill, which includes work requirements," Trump tweeted Thursday. "We must support our Nation's great farmers!"
For Ryan, the bill's demise is a setback in his quest to reform safety net programs — and his desire not to plunge the House into an immigration debate in the middle of election season.
Currently, 20 House Republicans and dozens of House Democrats have signed a discharge petition that would force votes on a series of immigration proposals. The petition would succeed If every Democrat and five more Republicans signed on.
A forced immigration debate could be politically disastrous for Republicans, as the conservative immigration bill embraced by many House hardliners is unlikely to pass the House.
Instead, a bipartisan bill that would codify the Deferred Action for Childhood Arrivals program — which shields from deportation some undocumented immigrants who were brought to the country as minors, allowing them to live and work in the U.S. — would pass.
Politico reported Wednesday that House Majority Leader Kevin McCarthy believes passing a bipartisan DACA bill could cost Republicans its majority in November by depressing turnout from the GOP base, which supports more hardline immigration policies.