Houston police are investigating alleged abduction of black teen by group of white men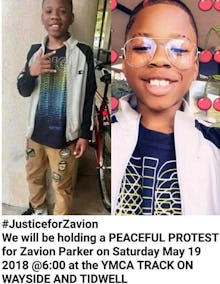 Houston police are investigating the alleged kidnapping and assault of Zavion Parker, a 13-year-old black boy who said he was forced into a vehicle by a group of white male teens and a white adult male and taken to a shack on Monday. The sixth-grader escaped by running away, ABC13 reports.
Zavion's family says the alleged incident was racially motivated, and is holding a rally to support the teen at 6:00 p.m. Saturday at a Houston-area YMCA.
"He said the reason why they got him is because they said he was black and 'you deserved to die.' Exactly his words," Michelle Lee, Zavion's mother, reportedly said.
When Zavion did not come home from school on Monday, Lee called the police. But before authorities could begin searching, the boy was found, safe but visibly shaken.
Zavion told investigators that after he got off his school bus he was approached by five teens who forced him into a car. He said an adult white male was in the driver's seat. Zavion told authorities that his abductors drove him to the property and took his jacket, shoes and keys from him.
The teen said he ran away after his alleged captors went into another room to load a gun. A local woman, Camecia Carmouche, was driving home when she spotted the boy running, she explained in a Facebook Live video posted Monday. She claims that when she asked Zavion if he was OK, he did not stop.
"He was running full speed and did not want to talk to me," Carmouche said in the recording.
Carmouche persisted. She said that eventually she pulled over and Zavion stopped to tell her what happened. Carmouche notified the authorities and gave Zavion her cell phone so that he could contact his mother. She added that the boy told her the suspects who allegedly kidnapped him were white.
Lee also told ABC13 that she received anonymous text messages from someone stating they were going to kill her son. Zavion described the alleged suspect who drove the vehicle as having a tattoo that read "I hate black people." The Houston police department said that the suspect is a white man with straight orange hair and a heavy build.