Movement Must-Reads: Black Republicans, "arabbers" and mass killings in Gaza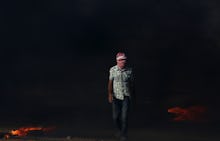 A horrific week of violence in Gaza underscores this week's reporting from Mic and beyond, which also touches on Republicans' efforts to attract black voters to their ranks, the dying culture of "arabbers" in Baltimore and a look back at season two of Atlanta.
Read on for more.
From Mic:
Chauncey Alcorn examines the outreach efforts of the conservative organization Turning Point USA, whose black communications director, Candace Owens — fresh off Kanye West articulating his admiration for her on Twitter — is helping execute a broad initiative to pull black voters to the right.
Natelegé Whaley on season two of Atlanta, Donald Glover's singular FX comedy, which — as Whaley puts it — "turned up the weird factor" while still staying true to its frank depiction of daily black struggle.
Brianna Provenzano on a statewide teacher strike in North Carolina.
And Aaron Morrison on Baltimore's famed "arabbers" — mostly black men who sell produce and other perishables from the back of horse-drawn wagons. (Stay tuned for the video that will be released soon.)
From elsewhere:
Wajahat Ali's video report and accompanying written piece for the Atlantic on his trip to the West Bank to interview Israeli settlers has rightly sparked nationwide debate after Israeli soldiers killed more than 50 Palestinians during protests this past week.
This piece at Vox by a political scientist on how white peoples' generally positive experiences with police encourages them to routinely involve law enforcement in minor disputes, especially involving black Americans.
A difficult article from Sports Illustrated about Luke Heimlich, a highly touted college baseball player who pleaded guilty to sexually molesting his 6-year-old niece when he was 15.
That's all for now. Until next week.