Report: The Trump campaign may have colluded with two other countries in the 2016 election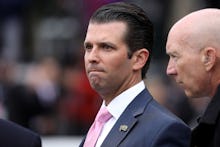 Donald Trump's 2016 presidential campaign may have colluded with two other nations besides Russia, according to a blockbuster new report from the New York Times.
The Times report extensively details a previously undisclosed meeting between Donald Trump Jr. and an emissary for Saudi Arabia and the United Arab Emirates to coordinate plans for the two nations to help Trump win the 2016 election.
The emissary, George Nader, was previously reported to be cooperating with Robert Mueller's special counsel investigation into Trump's 2016 campaign.
The meeting was also attended by Erik Prince, founder of the private military company — and brother of Education Secretary Betsy DeVos — as well as an Israeli specialist in social media manipulation, Joel Zamel.
According to the Times, Nader told Trump Jr. that the two gulf states were interested in helping his father win the 2016 election. Zamel, reportedly then presented Trump Jr. with a detailed presentation on a multimillion-dollar social media campaign his company could employ to help Trump win the election.
The meeting bears a notable resemblance to the previously reported meeting between Donald Trump Jr., and a Kremlin-connected lawyer who had promised the campaign dirt on Hillary Clinton and was described to Trump Jr. in an email as being "part of Russia and its government's support for Mr. Trump."
Though it's unclear whether Zamel's proposal was ever carried out, Trump Jr. is said to have responded favorably to the plan. Nader later paid Zamel as much as $2 million. The reason for that payment is not yet known, but Zamel at some point presented Nader with an explanation of how important social media was in Trump's election.
Zamel's company, which employs several former Israeli intelligence officers and has the comically villainous name Psy-Group, says its motto is to "shape reality." Other employees within the company were reportedly concerned about the legality of the proposal.
Trump Jr.'s lawyer, Alan Futerfas, said in a statement to the Times that "prior to the 2016 election, Donald Trump Jr. recalls a meeting with Erik Prince, George Nader and another individual who may be Joel Zamel. They pitched Mr. Trump Jr. on a social media platform or marketing strategy. He was not interested and that was the end of it."
Zamel's lawyer, Marc L. Mukasey, told the Times, "Neither Joel Zamel, nor any of his related entities, had any involvement whatsoever in the U.S. election campaign."
Nader's lawyer, Kathryn Ruemmler, emphasized that her client is cooperating with the investigation.
For months the president has repeatedly claimed that there was "no collusion" between his campaign and foreign entities, calling the Mueller investigation a "Witch Hunt."