Trump campaign aide Roger Stone hasn't heard from Mueller yet — here's what that might mean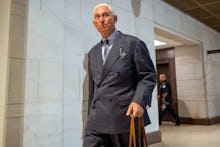 Robert Mueller's investigation into possible collusion between the Trump campaign and Russia marked its one-year anniversary this week — and while the yearlong investigation has involved numerous interviews with Trump allies, the special prosecutor has still yet to speak with former campaign adviser Roger Stone.
In an interview Sunday on Meet the Press, Stone confirmed that he still had not heard from Mueller's team, though eight of his associates had been interviewed and asked about Stone.
"That is correct," Stone responded when asked by host Chuck Todd to confirm he had not had any contact with anyone in the special counsel's office, including Mueller himself.
Stone's lack of contact with the Mueller team suggests that the former aide could be a subject of the Mueller probe himself — a possibility that Stone acknowledged could happen.
"I am prepared, should that be the case," Stone said about a potential indictment from Mueller.
"I don't know if I'm an interesting person or a person of interest," Stone added about his place in the Mueller probe. "I can guarantee you they have found no evidence whatsoever of Russian collusion, nor trafficking of allegedly hacked emails with WikiLeaks, and it is not inconceivable now that Mr. Mueller and his team may seek to conjure up some extraneous crime pertaining to my business, or maybe not even pertaining to the 2016 election."
"I would chalk this up to an effort to silence me, Chuck," Stone continued, citing his criticisms of "excesses of the Mueller probe."
In a separate interview on Meet the Press Sunday, Sen. Adam Schiff, the ranking Democrat on the Senate Intelligence Committee and a former prosecutor, concurred that Stone's lack of contact with the Mueller team could mean that he's a subject of the probe, or potentially that an interview could be coming later. Todd noted that Stone is one of four high-profile Trump figures who has not yet been contacted by Mueller, along with Trump's lawyer Michael Cohen; digital media director and 2020 campaign manager Brad Parscale; and son Donald Trump Jr.
"It could be that they're saving those interviews, like the president, for last, after they've done all the groundwork," Schiff said Sunday about why the four men had not yet heard from Mueller. "It makes sense to find out all you can before you bring in certain key witnesses. Or it could be that they're a target of the investigation. It's not something that I think you can breathe easy about that you haven't been called in, sometimes that might indicate you are a target of the investigation, and you are more likely to be charged than interviewed."
At the heart of Mueller's possible investigation into Stone is his potential contact with WikiLeaks or Russian intermediaries. Prior to the website's release of Clinton campaign head John Podesta's emails during the 2016 campaign, Stone made a series of comments suggesting he had contact with WikiLeaks and potentially had advance knowledge about the email hack. The hack has been linked to Russia.
On Aug. 21, Stone tweeted that "it will soon [be] Podesta's time in the barrel," though he claimed on Meet the Press Sunday that his tweet referred to both John and brother Tony Podesta, a Democratic lobbyist, and revelations about the Podesta Group's ties to foreign governments in the Panama Papers.
Stone continued to deny Sunday that he had any advance knowledge of the "content, source or the exact disclosure time" of the Podesta email hack, and that his comments were based on public statements made by WikiLeaks head Julian Assange. Stone did say, however, that he had "a source that said Assange had what he said he would have [on Clinton], and that it would be delivered in October."
"There is no evidence whatsoever that I had advance knowledge of the content or source of this material. I received nothing from WikiLeaks or from the Russians, I passed nothing on to Donald Trump, or the Trump campaign. We've been through this ad nauseam. It is a wild goose chase," Stone said Sunday.
Schiff, however, disputed Stone's WikiLeaks claims. The senator cited Stone's testimony in front of the Senate Judiciary Committee Sunday, saying that though the congressional committee was unable to investigate the full extent of Stone's potential ties to WikiLeaks, his public comments are "inconsistent" with other facts known by the Senate committee.
"Roger Stone is known for a lot of things. Candor isn't really one of them, and either his testimony before our committee was untrue, or his public statements are untrue. Both cannot be fact, because they are inconsistent with each other," Schiff said on Meet the Press.
"His public comments that he never had contacts with WikiLeaks, that he never had contact with intermediaries of the Russians are inconsistent with certain facts, but we were never allowed to follow the evidentiary trail," Schiff added. "I suspect that Robert Mueller is, and that's why so many of Roger Stone's confederates are being brought in."