Here's what's coming up this week in politics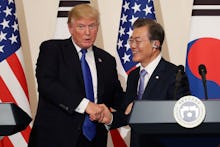 Following a week in which the Mueller investigation celebrated its one-year anniversary, new Trump revelations continued to emerge and a tragic school shooting in Santa Fe, Texas, reignited the debate on gun control, the political world is preparing for a new week filled with foreign policy, Supreme Court decisions and more.
Primary elections are set to take place in several states this Tuesday, while players in Washington, D.C., are set to welcome a key foreign ally and continue key congressional pushes.
Here are some of the major events to expect from the week ahead.
U.S. Supreme Court: After issuing a ruling last week on sports betting that could have far-reaching implications, the U.S. Supreme Court is scheduled to release another round of opinions Monday. With only six weeks left in the court's term, the Monday opinions could include rulings on key issues that are currently awaiting decisions, including gerrymandering, religious liberty and President Donald Trump's travel ban.
Iran deal: Secretary of State Mike Pompeo is set to deliver an address Monday at the Heritage Foundation, in which he's expected to lay out a "comprehensive strategy" for the U.S. and its European allies to rein in Iran's nuclear activities. Following Trump's recent decision to pull out of the Obama-era Iran nuclear deal, claiming it did not go far enough, the U.S.'s European allies have remained committed to the deal, although national security adviser John Bolton warned on May 13 that if European countries remain in the deal, the U.S. could sanction European companies that continue to do business with Iran.
FBI surveillance probe: Trump tweeted Sunday that he will ask the Department of Justice Monday to "look into" whether the FBI or DOJ under former President Barack Obama infiltrated or surveilled the Trump campaign.
Trump has been railing against the idea that a government informant was embedded in the Trump campaign in recent days, calling the scandal "bigger than Watergate!" House Intelligence Committee chair Devin Nunes said Sunday he won't speak with the DOJ until he receives documents related to the FBI source, which allegedly spoke with at least two Trump advisers about the campaign's ties to Russia.
FBI Director Christopher Wray and Rep. Adam Schiff have warned, however, that exposing a government informant could pose a danger to national security and the informants themselves. According to the Washington Post, the FBI has currently been working to mitigate potential damage if the source's identity is revealed, as it could impact current investigations and put associates in danger.
Moon Jae-in: Trump is scheduled to meet with South Korean President Moon Jae-in Tuesday, ahead of the upcoming planned summit between the U.S. and North Korea on June 12. The North Korean negotiations have hit a snag in recent days, as annual U.S.-South Korea military exercises caused North Korea to cancel peace talks with South Korea and threaten to cancel the upcoming U.S.-North Korea summit. As a result, the U.S. scrapped plans for a training exercise with South Korea at South Korea's request, fearing that it could further anger North Korea. Trump and Moon spoke Sunday and are planning to "work closely and unwaveringly" on the North Korean negotiations, the South Korean presidential office said.
Trump's schedule: In addition to Moon's visit and his DOJ efforts, Trump's schedule this week includes hosting NASCAR champion Martin Truex Jr. and attending new CIA director Gina Haspel's swearing-in ceremony Monday; a Wednesday immigration round table; and attending the Naval Academy graduation ceremony Friday. On Thursday, Trump will award the Medal of Honor to retired Master Chief Special Warfare Operator (Sea, Air and Land) Britt K. Slabinski of the U.S. Navy for his efforts in a 2002 offensive operation against al-Qaida forces.
Primary elections: Voters in Arkansas, Georgia, Kentucky and Texas will head to the polls this Tuesday for primary elections ahead of the November midterms. Democrats in Arkansas will be fighting for the chance to challenge current Rep. French Hill, who's considered to be vulnerable in the November midterms and could be the state's best chance for a Democratic win. Candidates will vie for the governorship in Georgia and Texas, where a run-off election is taking place between Democrats Lupe Valdez and Andrew White. Texas will also see run-off elections for candidates hoping to replace a number of outgoing congressmen this November, including Reps. Ted Poe, Joe Barton, Blake Farenthold and Gene Green.
Congress: The U.S. Congress will be in session this week with an agenda that's set to include the House considering a number of bills dedicated to veterans as the Senate confirms Dana Baiocco a a commissioner of the Consumer Product Safety Commission.
Also likely to continue on Capitol Hill is the ongoing immigration dispute among House Republicans, as a number of Republicans attempt to force a vote on immigration over House Speaker Paul Ryan's objections. The immigration argument led to the failure of a farm bill in the House Friday, as 30 Republicans voted against the bill because they wanted assurances for an immigration vote. Some lawmakers are also attempting to force a vote on overturning the net neutrality repeal in the House after the Senate approved the measure Wednesday, and the recent Santa Fe shooting could spur Democratic lawmakers to revive discussions on gun control legislation.