Kelly Clarkson speaks out against gun violence at the BBMAs: "I'm so sick of moments of silence"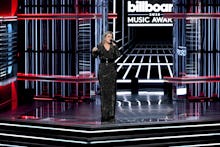 During Sunday night's Billboard Music Awards in Las Vegas, host Kelly Clarkson opened the show by going slightly off script. "Before we start tonight's show, there's something I'd like to say — this is gonna be so hard — about the tragedy Friday at Sante Fe High School," Clarkson said.
"Tonight they wanted me to say that, obviously we want to pray for all the victims and their families. But they also wanted me to do a moment of silence, and I'm so sick of moments of silence. It's not working. Like, obviously. So why don't we not do a moment of silence? Why don't we do a moment of action, a moment of change? Why don't we change what's happening?"
The moment was not quite a formal call for gun reform, but Clarkson seemed to be, in an emotionally raw moment, pleading for some sort of "change" that would stem the tide of mass shootings that have come to feel like a regular occurrence in the U.S. She went on, in her opener, to allude to other mass shootings of recent years.
"Because it's horrible. And mamas and daddies should be able to send their kids to school, to church, to movie theaters, to clubs — you should be able to live your life without that kind of fear. We need to do better. These people are failing our children. We're failing our communities; we're failing their families — I have four children, and I can't imagine getting that phone call or that knock on the door. So instead of a moment of silence, I want to respect them and honor them. So let's have a moment of action — a moment of change."
Clarkson is a Texas native and a gun owner, a factoid she's repeated in interviews, as the New York Times reported Monday, which makes her call for change all the more notable. Just after delivering that opening, Clarkson introduced singer Ariana Grande, who herself lived through a deadly attack in 2017 when a suicide bomber attacked her concert in Manchester, England. Grande called for gun control explicitly in the wake of the deadly Las Vegas shooting last year.
Also at the Billboard Awards on Sunday were teenagers who had been touched by another high-profile mass shooting. The show choir from Marjory Stoneman Douglas High School in Parkland, Florida, the site of a shooting that killed 17 people, joined Shawn Mendes and Khalid for a performance of the song "Youth."
In a video posted by Billboard, Shawn Mendes said he was "just super honored to be able to do that with them." He also referenced the most recent school shooting in Texas, saying, "Obviously our hearts go with everyone affected by what happened. We're very, very overdue for a change."