Trump's North Korea meeting in doubt as White House fears "political embarrassment"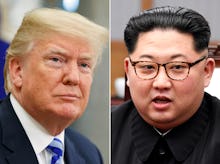 Welcome to Mic's daily read on Donald Trump's America. Want to receive this as a daily email in your inbox? Subscribe here.
Good morning from Emily Singer at Mic.
Here's what's happening in Trump's America:
• At 10:35 a.m. Eastern, Trump will swear in Gina Haspel as the new director of the CIA. Last time Trump spoke at CIA headquarters, he ranted about the media and boasted about his electoral college win in front of a memorial dedicated to fallen CIA officers.
About the weekend: Trump loses it on Twitter over the Russia investigation
Trump's private rage about special counsel Robert Mueller's investigation spewed out onto Twitter over the weekend, culminating in Trump demanding an investigation into the FBI, Department of Justice and Obama administration.
Trump's anger stems from a report that the FBI used an informant to speak to two Trump campaign aides — George Papadopoulos and Carter Page — after the FBI received evidence the aides had "suspicious contacts" with Russia as part of their campaign jobs, according to the New York Times.
Trump took that report to claim the FBI infiltrated his campaign — a claim based on absolutely no evidence.
"I hereby demand, and will do so officially tomorrow, that the Department of Justice look into whether or not the FBI/DOJ infiltrated or surveilled the Trump Campaign for Political Purposes — and if any such demands or requests were made by people within the Obama Administration!" Trump tweeted Sunday.
While House Republicans have demanded investigations of the Mueller inquiry, this is the first time Trump himself is intervening in Mueller's probe. After Trump's demand, the Justice Department said its inspector general will look into whether the investigation into those two Trump campaign aides was politically motivated, according to the Washington Post.
Democrats are sounding the alarm over Trump's intervention in the investigation.
"When you add it all up, today Trump demanded a counter-investigation into the legitimate, lawfully predicated DOJ probe of his campaign, based on no evidence of wrongdoing, solely to undermine the special counsel — and he got it," Matthew Miller, a spokesman at the DOJ under former President Barack Obama, tweeted Sunday. "The system is failing."
Today in Trump's America: Is Trump getting cold feet on the North Korea meeting?
The upcoming summit between Trump and North Korean leader Kim Jong Un may be in doubt, as Trump is worried the June meeting scheduled to be held in Singapore could be a "political embarrassment," the New York Times reported.
Trump has been publicly touting the meeting with Kim for weeks, with Republican lawmakers even nominating Trump for a Nobel Peace Prize for the negotiations with the North Korean leader. In recent days, however, North Korea has caught the White House off guard with threats to cancel the meeting as well as saying the country doesn't plan to give up its nuclear weapons program, which is the entire purpose of the meeting.
According to the New York Times, White House aides are also worried Trump doesn't have enough of a grasp of North Korea's nuclear program and thus would have trouble in a meeting with Kim, who knows in-depth details about how the nuclear weapons program works.
South Korean President Moon Jae-In is traveling to Washington this week to meet with Trump to try and salvage the planned meeting with Trump and Kim, according to CNN.
Ultimately, the events in the past week are proof that getting North Korea to denuclearize was always going to be complicated.
Capitol Hill happenings: Is there a coup attempt against Paul Ryan?
House Speaker Paul Ryan (R-Wis.) has already announced he is not seeking re-election in the fall, but he plans to serve out the remainder of his term in Congress and as speaker. The Weekly Standard reported though that both Republican lawmakers and the White House are mulling a plan to push Ryan out early and install their preferred successor: House Majority Leader Kevin McCarthy.
Part of the plan, according to the Weekly Standard's Haley Byrd, would be an effort to force Democrats to vote on House Minority Leader Nancy Pelosi before the midterm elections in an effort to use Democratic members' votes for or against Pelosi in ads. (Every member votes in a speaker election.)
However, there are very few incumbent Democratic lawmakers that Republicans are targeting in 2018. There are just five seats with Democratic incumbents that are rated competitive by Inside Elections. So to push Ryan out early over the speaker vote of five Democratic lawmakers would seem excessive.
The White House pushing Ryan out early would be a final embarrassing blow to the speaker, who has been adamant that he wants to remain speaker through his final term.
McCarthy, for his part, denied that a coup attempt is in the works.
"Completely untrue," McCarthy told the Weekly Standard. "Paul has my total support. Together we are completely focused on our agenda and traveling the country to take our unified message and action to the voters in November."
And the rest…
Russia investigation: While Trump ranted about the Russia investigation, more news came out that first son Donald Trump Jr. may have colluded with two other nations during the campaign. According to a bombshell New York Times report, Trump Jr. met with an emissary for both Saudi Arabia and the United Arab Emirates to coordinate helping Trump's campaign. That emissary, George Nader, is cooperating with Mueller's probe.
Rudy… again: Trump lawyer Rudy Giuliani claims Mueller's investigation into whether Trump obstructed justice will end by Sept. 1, according to the New York Times. There's no actual evidence besides Giuliani's word that this is Mueller's plan. But Giuliani said that wrapping that part of the investigation by September would keep it from influencing the midterm elections.