A fresh round of wins for women candidates? What to watch for in Tuesday's primaries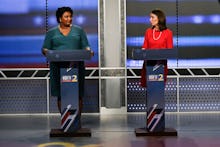 Tuesday will bring yet another major primary night in midterm election season, and yet another group of election battles where women candidates are poised to become the Democratic nominees in key contests across the country.
Voters in Arkansas, Georgia and Kentucky will all be voting for their own congressional nominees, while voters in a handful of contests in Texas will be voting in runoffs triggered by the state's February primaries.
And, like last Tuesday's primaries, women are expected to emerge as nominees in many of the key races to watch as results roll in Tuesday night.
Here's a look at the top races of the day:
Arkansas: One House primary to watch
Arkansas, a deep red state, won't be ground zero for battle of the House come November. But one Little Rock-based seat, in a district which President Donald Trump won by an 11-point margin in 2016, could become competitive in a year where a Democratic wave is possible.
Democrats want to have a particularly strong candidate in place to exploit a potentially favorable political climate. The Democratic Congressional Campaign Committee, which seeks to elect Democrats to the House, is backing Clarke Tucker in Arkansas' 2nd Congressional district. Tucker is a state representative and cancer survivor, who's making health care a theme of his bid. Polls show him as the odds-on favorite in the primary.
If Tucker wins, he'll face off with incumbent GOP Rep. French Hill in November.
The race is one of 19 battles that Roll Call changed, ranking them as more competitive for Democrats.
Georgia: The battle of the Staceys
The big primary to watch in Georgia is the gubernatorial race, which will be an open seat come November as current GOP Gov. Nathan Deal is term limited.
Trump won Georgia by a 5-point margin in 2016, but Democrats are cautiously optimistic that they can make the race competitive in the fall, thanks to demographic changes in the state that are eroding Republicans' historical advantage.
The competitiveness of the state has created a rare competitive primary on the Democratic side, with two women candidates named Stacey battling it out for the nomination.
Stacey Abrams, the former minority leader of the Georgia state House, would be the first black woman governor in the country, should she win the nomination and the general election this fall. She's running as a progressive, riding the notion that the state is changing enough that Democrats would not need to win over moderate Republicans in order to capture a statewide victory. Her campaign has been endorsed by progressive leaders such as Sens. Bernie Sanders, Cory Booker and Kamala Harris. Hillary Clinton also endorsed her today, recording a robocall for the candidate.
Abrams is facing off with Stacey Evans, also a former state representative, who has been endorsed by a handful of state lawmakers. Polling suggests that Abrams is the favorite in the contest, holding a large lead over Evans.
There's also a competitive primary on the Republican side of the gubernatorial contest, that's expected to head to a runoff, which is triggered when no candidate receives a majority of the vote.
Polls show Lt. Gov. Casey Cagle and Secretary of State Brian Kemp are the two front-runners in a GOP race that's been a battle for which candidate is more conservative. Kemp made waves when he pointed a gun at a young man that Kemp said was "interested in" one of his daughters. The ad, released in the wake of a spate of school shootings, led to outrage.
Meanwhile, State Sen. Michael Williams, who polls show has little chance of becoming the nominee, has been riding around in a "deportation bus." The tour took a turn, however, when the bus broke down last week.
Inside Elections has said that the race is currently rated a "likely Republican" contest.
Kentucky: Female veteran looks to defeat a sitting mayor
Democrats are now seeing an opening in Kentucky's Lexington-based 6th District against GOP Rep. Andy Barr. Trump took the district by a 15-point margin in 2016, but a Public Policy Polling survey from February shows that the president's popularity has waned in the seat since his inauguration, and that Barr looks vulnerable to a Democratic challenger.
The Democratic primary in the seat has boiled down to a contest between three top contenders: state Sen. Reggie Thomas, Lexington Mayor Jim Gray and retired Marine Corps Lt. Col. Amy McGrath.
The DCCC has touted Gray as an elected official with the kind of "bipartisan record" and "independent profiles" that could put a "tough district" like Kentucky's 6th "into play." But McGrath, a veteran of the wars in Iraq and Afghanistan, has released a series of gripping ads that make her a top contender for the nomination — especially in a year where women candidates are winning across the country.
There's been little public polling in the race, so it's unclear which candidate will come out victorious.
The race is currently rated a "lean Republican" contest by Inside Elections.
Texas: Runoffs abound
Voters in Texas will head back to the polls for runoff contests in a handful of congressional primaries across the state.
One of the most contentious primaries is in Texas' 7th District, where anti-establishment candidate Laura Moser is trying to defeat Lizzie Pannill Fletcher, who has the support of groups like the DCCC and EMILY's List, which backs female candidates who support abortion rights.
Fletcher won the DCCC's endorsement, as the committee believes that articles Moser once wrote denigrating Texas would make her a weak nominee in this district, which Clinton won by a slim 1-point margin in 2016.
The race is rated a "tilt Republican" contest by Inside Elections.
Meanwhile, in Texas' 23rd District, currently rated a toss-up by Inside Elections, out gay Iraq War Veteran Gina Ortiz Jones — who served during the Don't Ask Don't Tell era as an Air Force intelligence officer — is facing off against candidate Rick Trevino.
If elected, Ortiz Jones would be the make history as the first out gay woman of color in Congress. If she wins on Tuesday, she would face off with GOP Rep. Will Hurd in a district Clinton won by a 4-point margin.
There are also runoffs on both sides of the aisle In Texas' open 21st District, thanks to GOP Rep. Lamar Smith's retirement. Trump won the seat by 10 points, but that was far less than the 22 points Mitt Romney won the seat with in 2012.
Baptist Minister Mary Wilson is facing off with retired Army Officer Joseph Kopser for the Democratic nomination, while attorney Chip Roy is facing off with businessman Matt McCall for the GOP nod.
The winner of both primaries will face off in a race rated "likely Republican" by Inside Elections.
In Texas' 32nd District — another seat that Clinton won by a slim margin — ex-NFL player and civil rights attorney Colin Allred is battling with lawyer Lillian Salerno to win a Democratic runoff to take on GOP Rep. Pete Sessions.
The race is rated "likely Republican" by Inside Elections.
There are also a handful of GOP runoffs in safe Republican seats in which the winner would become the defacto next member of Congress.