Tennessee parole board is split on recommending clemency for Cyntoia Brown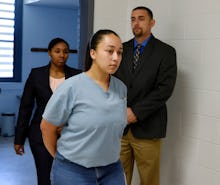 Cyntoia Brown was a 16-year-old sex-trafficking victim who was sentenced to life in prison in 2006 for shooting and killing Johnny Allen, a man who allegedly took her to his home for sex. On Wednesday, Brown, now 30, made a bid for her freedom to the Tennessee Board of Parole — but the board split on recommending her for clemency, the Tennesseean reported.
Of the six-member board, two members are in favor of recommending Brown and two members are against recommending Brown. The remaining two members are suggesting Gov. Bill Haslam reduce Brown's sentence from life in prison to 25 years, which means she would serve 11 more years in prison.
Oral arguments in the case will be heard June 14 at the Sixth Circuit Court of Appeals in Cincinnati. Gov. Bill Haslam, who has the final say in Brown's case, began reading up on the case in December, Nashville Public Radio reported.
Haslam, who is in the final year of his second term, has gone against the parole board's recommendations in the past. In December, he exonerated Lawrence McKinney of rape and burglary charges, despite the Board of Parole's unanimous decision not to recommend McKinney for clemency.
Brown was convicted of first-degree murder and aggravated robbery after killing Allen, who she said she shot in self-defense. Brown is not eligible for parole until 2059, according to state records.
Jeff Burks, the prosecuting attorney in Brown's case, cites Brown stealing Allen's wallet and sending someone to his home after the shooting as reasons not to "forget the crime."
But Brown's supporters, like Tennessee state Rep. Jeremy Faison, said the case would not have ended in conviction if Brown were tried under the current trafficking and juvenile offender laws, according to the New York Times.
In January, advocacy groups including the Juvenile Law Center, Campaign for the Fair Sentencing of Youth and the Center for Law, Brain and Behavior filed a "friend of the court" brief to the Sixth Circuit Court of Appeals asking that charges be reversed.
"Her sentence violates recent Supreme Court decisions like Miller v. Alabama and Montgomery v. Louisiana, where the court ruled that all but the rarest of juveniles — those who are permanently incorrigible — deserve a chance to re-enter society before the expiration of their sentence," Marsha Levick of the Juvenile Law Center, said in a news release.
Brown's case also received renewed attention from celebrities like Kim Kardashian West and Rihanna who shared her story in November.
As of May 22, the MoveOn petition Free Cyntoia Brown has received more than 486,700 signatures.
Before the incident, Brown reportedly ran away from her adopted family and lived with Garion "Cut Throat" McGlothen, who raped, abused and forced her into prostitution, ABC News reported.
"The court will be asked by our team to consider the constitutionality of the 51-year sentence for a child," Charles Bone, Brown's attorney, told ABC News. "That's been the issue we have felt for all these years needs to be considered by the courts. We haven't been successful yet, but we are hopeful the 6th Circuit will consider our appeal on a favorable basis."