Pabst Blue Ribbon is the latest brand to wade into the world of vague political messaging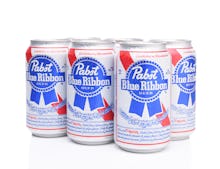 Pabst Blue Ribbon, a beer company that dates back to 1844, has built a reputation for being a hipster favorite. Its rise in subculture popularity inevitably led it to peak — as any fad eventually does — and enter the mainstream. Perhaps in an attempt to embrace its widespread fandom without losing its cool factor, PBR launched a campaign aimed at diverse millennials on Tuesday.
With two short documentaries, "Pabst Blue Ribbon celebrates the voices of today's ever-evolving American dream," a press release stated. The brand is seemingly taking a very risk-free, quasi-political stance to captivate more millennial activists.
"As an iconic American brand Pabst wanted to celebrate and explore what the contemporary American dream looks like," PBR marketing director Justin Medcraft said in an email. "Bettering oneself and society, striving to meet goals, these are values that are aspirational and unite us."
It's unclear how "bettering oneself" is related to beer. PBR's new positioning feels empty, and like a step backward for a brand that earned its valuable reputation by once choosing not to follow the crowd. The documentaries reek of faux-activism in an effort to connect with an outspoken generation. Research shows that the majority of consumers want brands to take a stand on both social and political issues. While there's certainly nothing wrong with elevating and celebrating diversity, PBR's stance is far too vague and lacks messaging that would otherwise help consumers align with a mission.
The two films offer a glimpse into the lives of a diverse group of people: Dallas' NieceeX, a poet and leader of the Black Women's Defense League; Syrian refugee Subhi Nahas; police officer and veteran Erika Bohorquez; Texan drag queen Jacob/Violet; Vietnamese farmer Mai Nguyen and Houston poet Emmanuelee Bean.
In addition to the documentaries, PBR devised a somewhat hokey Pabst Blue Ribbon America Dreaming Hotline. The hotline, now live at 1-833-DREAM-ON, is "celebrating and exploring the American dream by encouraging everyone across the country to dial in and record a voicemail outlining their American dream," the press release stated.
The first documentary is riddled with semi-inspirational quotes, like, "If you live as honestly as you can, I think it encourages other people to do the same," and "If you grow up with struggle, you see opportunity. But if you grow up in opportunity, all you see is struggle. So it's all about your perspective." While the individuals highlighted in the videos are undoubtedly inspiring on their own, the film doesn't seem to fully embrace them.
In the past, PBR has been recognized for its independence: A study in the Journal of Consumer Research found that autonomy is a critical factor in leading consumers to perceive coolness. "[Pabst] linked themselves to a variety of things that presented the 'autonomous' image," Margaret C. Campbell, one of the study authors, told HuffPost. "For example, they sponsored bike messenger rodeos, and they did it in Portland, [Oregon], which is a very autonomous city."
But the brand's current stint, with its light nod to social justice, doesn't feel original. In 2017, when refugee rights came under threat by the Trump administration, Budweiser aired a pro-immigration commercial during the Super Bowl that was intended to "resonate with today's entrepreneurial generation — those who continue to strive for their dreams," Ricardo Marques, Anheuser-Busch InBev's VP for Budweiser, said in a press release. Despite the timely release, Marques insisted the ad wasn't political: "There's really no correlation with anything else that's happening in the country," he told AdAge.
This trend of appearing to stand for a cause while promising not to be standing for anything at all turned sour when Pepsi released its now notorious Kendall Jenner ad. In it, an obscure protest was met with peace when Jenner handed a police officer a can of soda. Pepsi, like Budweiser and now PBR, dipped a toe into activism without committing to a real cause, and it fell flat.