Supreme Court sides with employers over employees in decision Ginsburg called "egregiously wrong"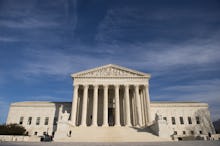 Employers in the United States received a win from the Supreme Court on Monday, as the court ruled in favor of arbitration clauses that force employees to settle disputes through individual arbitration, rather than through joint legal proceedings such as class action and collective lawsuits.
The court ruled 5-4 in Epic Systems Corp. v. Lewis, which sought to determine whether arbitration clauses in employment contracts can be legally enforced. Though the Federal Arbitration Act stipulates that arbitration contracts are "valid, irrevocable and enforceable," the plaintiffs argued that the law conflicted with the National Labor Relations Act, which guarantees workers "the right ... to engage in other concerted activities for the purpose of collective bargaining or other mutual aid or protection."
In his opinion for the court, Justice Neil Gorsuch argued that the two laws are not in conflict with each other, making arbitration clauses legally valid. He wrote that it would be up to policymakers, not the courts, to change the law.
"The policy may be debatable but the law is clear: Congress has instructed that arbitration agreements like those before us must be enforced as written," Gorsuch noted. "While Congress is of course always free to amend this judgment, we see nothing suggesting it did so in the NLRA — much less that it manifested a clear intention to displace the Arbitration Act."
Monday's ruling was hotly contested by Justice Ruth Bader Ginsburg, who wrote in her dissenting opinion that the majority decision was "egregiously wrong."
"The question presented: Does the Federal Arbitration Act permit employers to insist that their employees, whenever seeking redress for commonly experienced wage loss, go it alone, never mind the right secured to employees by the National Labor Relations Act 'to engage in . . . concerted activities' for their 'mutual aid or protection'?" Ginsburg wrote.
"The answer should be a resounding, 'No.'"
The court's ruling will have wide-ranging effects for employees. According to the Economic Policy Institute, 24.7 million American workers — 23.1% of all private-sector nonunion employees — have employment contracts that contain the class-action waivers at the heart of Monday's decision. More broadly, mandatory arbitration procedures that require individual arbitration instead of legal proceedings for workplace disputes affect 60.1 million American workers.
CityLab noted the policies particularly affect working-class employees, and policies banning class-action suits are in place at such high-profile companies as Wells Fargo, Time Warner Cable, T.G.I. Friday's, Olive Garden, Target, Macy's and Amazon.
The "inevitable result" of Monday's ruling, Ginsburg noted in her dissent, is likely to be "the under enforcement of federal and state statutes designed to advance the well-being of vulnerable workers," such as minimum wage and overtime violations. Mandatory individual arbitration is likely to deter workers from fighting their disputes, Ginsburg explained, as the cost of individual proceedings often outweigh the potential reward and workers may fear retaliation if they make their claims alone. The Economic Policy Institute also noted that only 21.4% of mandatory arbitration cases brought by employees are successful, as compared with 36.4% of federal court cases and 57% of state court cases.
Upholding individual arbitration could also hinder the ongoing #MeToo movement, as mandatory individual arbitration has often prevented female employees from taking appropriate action against sexual harassment. Uber and Lyft recently announced that they would scrap mandatory arbitration rules for sexual harassment and assault claims, though their new policies do not address class-action lawsuits.
"Forced arbitration leads to long-term operating risk," Susan Fowler, who wrote a memo about her experiences with sexual harassment at Uber, wrote in a separate op-ed for the New York Times. "Forcing legal disputes about discrimination, harassment and retaliation to go through secret arbitration proceedings hides the behavior and allows it to become culturally entrenched."
The fate of forced arbitration may now be up to Congress and state lawmakers, some of whom have already begun the fight for workers' rights.
Sen. Kirsten Gillibrand (D-N.Y.) and a bipartisan coalition of Senators introduced the Ending Forced Arbitration of Sexual Harassment Act in December 2017, which would render arbitration agreements invalid in cases of sexual discrimination. In February, all 56 U.S. attorneys general signed a letter asking lawmakers to pass legislation preventing arbitration agreements in cases of sexual harassment. The letter marked the first time in the past decade that every single attorney general signed on to a single letter to Congress.
In Vermont, lawmakers recently passed a bill that prohibits particular terms that are part of standard arbitration clauses, rather than opening themselves up to court challenges by prohibiting arbitration clauses themselves. California is also considering a bill that would protect workers from arbitration agreements in cases of sexual harassment.
California also currently provides a workaround for forced arbitration through the Private Attorneys General Act, which allows employees or consumers to bring actions against companies on behalf of the state. Myriam Gilles, vice dean and law professor at the Benjamin N. Cardozo School of Law, told CityLab that the legislation allows those filing the disputes to "stand in the shoes of the attorney general," making their case a public enforcement claim, rather than a personal claim, which is not subject to the employee's arbitration clause. New York is now considering following California's lead with the Empowering People in Rights Enforcement Worker Protection Act, which would similarly allow the state to participate in labor claims.