We asked you to share your stories of living #WhileBlack. Here are your responses.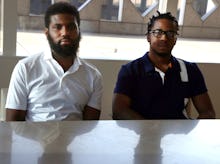 In America, people will call the police on you if you wait at a Starbucks, if you ask for silverware at a Waffle House or if you play some golf at a golf course — but only if you're black.
Stories like these, where black Americans are perceived as dangerous due to the color of their skin, are all too common in this country. And activist Brittany Packnett thinks the first step towards ending these everyday injustices is to talk about them.
"Just for being black, we are seen as a threat to society," Packnett said in a Mic video. "We want to talk about the undue and unjust burdens that are placed on people simply for the color of their skin."
In April, Packnett asked you to use the hashtag #WhileBlack and tell stories of when you experienced harm because of the color of your skin.
"Dating while black, interviewing while black, stargazing while black — the stories have poured in from across the country, and the list goes on and on," Packnett said. "Only when we share our stories can we begin to change the conversation. Only when we share our stories can we begin to shift the narrative. Please keep the conversation going."
Mic compiled some of the responses into a video op-ed that you can watch here. We are including some more of the responses below.
Buying Groceries #WhileBlack
Hailing a Cab #WhileBlack
Interviewing #WhileBlack
Staying in a Hotel #WhileBlack
Working out #WhileBlack
Partying #WhileBlack
Apartment Hunting #WhileBlack
Dating #WhileBlack
Mowing the Lawn #WhileBlack
Parenting #WhileBlack
Practicing the Law #WhileBlack
Brittany Packnett wants you to tell your story in the hopes of keeping the national conversation going. Watch the video op-ed, and use the hashtag #WhileBlack on Twitter if you have a story to share.