Texas Gov. Greg Abbott to hold roundtables on gun reform, and gun groups are cautiously optimistic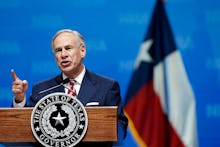 On the same day a 17-year-old suspected gunman reportedly confessed to carrying out Friday's mass shooting at his own Santa Fe, Texas, high school, Texas Gov. Greg Abbott announced he would host a series of roundtable discussions on curbing gun violence in the state. And in spite of Abbott's pro-guns record — he has an "A" rating from the NRA — gun reform groups say they're cautiously optimistic about the talks' potential to bring about real change.
"We're very excited," Gyl Switzer, executive director of Texas Gun Sense, said in an interview. "We're looking at the example of Florida, a conservative state with a very conservative governor, but then after the very sad Parkland shooting, things changed. I can't read [Abbott's] mind, but we have had progress across the country and even in conservative states."
On Friday morning, Santa Fe High School student Dimitrios Pagourtzis entered an art classroom armed with a shotgun and a .38-caliber revolver, both of which his father owned legally, and opened fire. Eight students and two teachers were killed, leaving a community still recovering from Hurricane Harvey damage struggling to come to grips with the violence.
In a press conference shortly after the shooting, Abbott said it was time to join in conversation to "make sure this tragedy is never repeated ever again in the history of the state of Texas."
"We want to hear from parents, we want to hear from students, we want to hear from educators, we want to hear from concerned citizens," he said. "We want to hear from everybody who has an interest in what has happened today so we can work together on putting together laws that will protect Second Amendment rights, but at the same time ensure that our communities and especially our schools are safer places."
Abbott, for his part, has been a staunch supporter of the Second Amendment as governor, signing both open carry and campus carry bills into law in 2015.
"By signing these bills into law, Texans can be assured that their Second Amendment rights will be stronger and more secure than ever before," Abbott said at the time.
For Switzer, though, Abbott's comments Friday seemed like a tacit admission that more needs to be done to keep schools safe — an acknowledgment she and Texas Gun Sense have been eagerly awaiting.
Texas is a solidly red state, one which Switzer said has "a pretty significant lobby of folks around expanding gun rights, much less making common-sense reform." Further complicating the issue is the Texas legislature, which convenes from January to May in odd-numbered years and isn't due back in session until January. It's a combination of legislative scheduling obstacles and conservative dominance that requires deft political maneuvering.
"I think about it in terms of, 'What do we actually need legislation for?'" Switzer said. "That's the question for us in Texas. Safe storage, education and suicide prevention we could do without legislation. We could move money around, ramp up what we already do, that kind of stuff."
Switzer said Texas Gun Rights, which will participate in a roundtable session Wednesday, has four main objectives on which it plans to double down during talks: a mix of legislative and non-legislative priorities that include universal background checks, safe storage education, extreme risk protective orders (sometimes called "red flag" laws) and suicide prevention initiatives.
Another organization vying for a seat at the table is the Brady Campaign to Prevent Gun Violence, a Washington, D.C.-based nonprofit that advocates against gun violence. Avery Gardiner, the organization's co-president, called the roundtable discussions a "small step" — but one she, like Switzer, welcomes when acknowledging Texas' political realities.
"Having a thoughtful discussion with gun owners in Texas about common-sense ways to reduce shootings, entirely consistent with Second Amendment rights, is a conversation we want to have because it's everything we stand for," Gardiner said. "For example, 20 states have expanded background checks to cover more gun sales than are required by federal law. Let's talk to Texas."
When asked about her level of optimism that the roundtables will deliver real, tangible results in curbing gun violence in Texas, Switzer put herself at a five out of 10.
"We have to consider it a victory to some extent if we can get even one significant thing going on, and I feel like that could certainly happen," she said. "On the other hand, maybe what I'm most afraid of is that some bad ideas will get passed, something that we know is not evidence-based."
Switzer said those non-evidence-based solutions include suggestions to arm school teachers to prevent mass shootings or the now-common refrain that "more guns make things safer," both of which she said data does not support.
Gardiner clarified that her own excitement was tempered by worry that Abbott's call for conversation could amount to nothing more than political opportunism.
"If the roundtable is going to tackle issues of how we keep guns out of the hands of people we agree shouldn't have them, we want to be part of that," Gardiner said. "My fear is that this is an attempt to stave off any real action, because I frequently hear people say we need to study the problem. We don't need to do much studying — we need to start acting. But if it's any step toward tackling the public health epidemic of gun violence in America, then I applaud him for taking that step."