The Obamas land a multiyear deal with Netflix to produce movies and television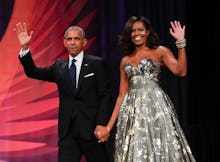 The Obamas are heading to Netflix.
In a multiyear deal with the streaming service, former President Barack Obama and former first lady Michelle Obama "will produce a diverse mix of content, including the potential for scripted series, unscripted series, docuseries, documentaries and features" under the newly formed production house Higher Ground Productions, according to a press release.
In December 2016, Mic reported Barack Obama was considering a career in the media industry — and this seems to be, at least in part, what he was cooking up.
"One of the simple joys of our time in public service was getting to meet so many fascinating people from all walks of life, and to help them share their experiences with a wider audience," he said in Netflix's release. "That's why Michelle and I are so excited to partner with Netflix — we hope to cultivate and curate the talented, inspiring, creative voices who are able to promote greater empathy and understanding between peoples, and help them share their stories with the entire world."
"Barack and I have always believed in the power of storytelling to inspire us," Michelle Obama added, "to make us think differently about the world around us, and to help us open our minds and hearts to others."
Though the Obamas' projects will certainly be among Netflix's most high-profile pursuits, they'll be far from alone: Netflix plans to release "in the neighborhood of 700 original TV shows" in 2018, costing at least $8 billion, according to Variety.