Katy Perry tells the world that she thinks Meghan Markle's dress didn't fit, as if the duchess asked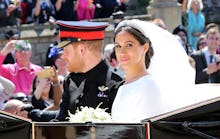 The Duchess of Sussex, aka Meghan Markle, has already got herself a hater.
It's a rather unpredictable one too, being that it's pop star Katy Perry, who announced via Entertainment Tonight she wasn't too keen on Markle's simple, streamlined Givenchy dress. To her, the dress was ill-fitting.
After being asked her general thoughts on the gown, Perry said, to audible groans from her American Idol co-judges Lionel Richie and Luke Bryan,"I would have done one more fitting. I'm never not going to tell the truth! One more fitting, but I love you."
Perry also said she much preferred Kate Middleton's Alexander McQueen wedding dress from 2011, though we weren't aware the two were in competition.
"Kate, Kate, Kate won, Kate won!" she screamed.
Now there's much to say about Perry's own credentials as a fashion critic. She has, as Jezebel pointed out, dressed up as a sexy can of whipped cream. There's also the fact there's a very small chance Markle's dress was indeed ill-fitting at all. It was, after all, created by Givenchy's highly talented artistic director, Clare Waight Keller, who surely did plenty of fittings with Markle before sending out her most important creation to date to be scrutinized by the entire world.
That's just us being sensible.