How a Native Hawaiian Democrat is pushing the party left on his home turf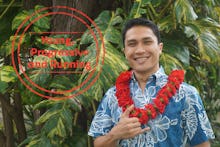 With just seven months until the November midterms, the movement to put progressives in power has largely been about which candidates will face Republicans to take back the House. But in one of the country's most deeply Democratic districts in Hawaii, candidates are jockeying to define what it means to represent the left of the American left.
Five candidates are vying for the Democratic nomination in Hawaii's 1st Congressional District to fill the seat currently held by Rep. Colleen Hanabusa, who declined to seek re-election in order to run for governor. (Republicans have yet to declare a candidate in the district.)
The open race to replace Hanabusa in an election year many believe could bring a Democratic wave represents a major opportunity to elect a new standard-bearer for progressives in Congress. Though it was briefly represented by a Republican after a special election in 2010, Hawaii's 1st District has a reputation as safe Democratic territory. Hillary Clinton won the district by more than 30 percentage points in 2016.
Kaniela Ing, a 29-year-old progressive state representative and the youngest legislator to hold a leadership position, is determined to not let that opportunity be wasted on a more centrist candidate.
"We've been so solidly Democratic for so many years, multinational corporations like Monsanto or industry developers like Howard Hughes or defense contractors who would normally support Republicans are forced to support Democrats financially," Ing said while describing the state of Hawaii politics. "One can argue that because we're so solidly Democratic, our Democratic Party is more conservative than anywhere else."
Ing, a Native Hawaiian and self-described Democratic Socialist, is running for Congress in Hawaii's 1st District on a bold progressive and populist platform — and he believes his background and community ties make him the best candidate to represent those values.
Ing is one of four children born to a working-class Hawaiian family. His father, a hotel waiter, died unexpectedly when he was 11, leaving only his mother, a Macy's suit clerk, to provide for him and three his siblings. Ing recalled watching his mother skip meals to ensure her kids were fed; when he was older, he worked in some of the island's most physically demanding jobs to help her make ends meet.
"My first job, I had to work in the pineapple fields from 4 a.m. with two water breaks," Ing said. "It's still hard to talk about that. ... You had to wear these gloves and put this T-shirt around your face like a ninja under your safety glasses, just to not die from the pesticides. You're just walking through the muddy fields and [duck walking] the whole time, chasing this machine to make sure you're keeping up."
His time in the fields gave him a greater appreciation for the state's many low-income workers, many of whom spend their entire lives in those jobs. That period in his life, he said, helped him better understand the importance of the social safety net programs that helped his family survive.
"I relied on Medicaid, free school lunch, Social Security, supplemental income or disability — pretty much every program," Ing said. "At the time, we needed help, a lot of help, from our teachers, our community and these programs that were a gift."
Ing wants to expand such programs in the 1st District and believes his presence in the race is already pushing his opponents left on key progressive issues, like single-payer health care. He's also joined the growing chorus of progressive candidates calling for a radical restructuring of America's immigration system. Congress should work to either abolish or defund Immigration and Customs Enforcement, he said.
"I was one of the first to come out in support of abolishing or defunding ICE," Ing said. "I don't know why people think that's a radical stance. It's as radical as having some American Gestapo, breaking into people's families, homes in the middle of the night and separating parents from their kids."
In addition to his unabashedly progressive platform, Ing hasn't shied away from addressing issues of race and ethnicity in the state. He's using his Hawaiian name, "Kaniela," in campaign materials instead of "Mark," his legal first name.
"When you're Hawaiian in politics, they tell you to avoid that part of your identity," Ing said. "Hawaiians aren't reliable voters. Folks who are reliable voters do not really empathize with indigenous struggles here. So, they say, 'Don't use your Hawaiian name. Don't talk about Hawaiian issues.' But you know, I'm defying that. I'm gonna do me. Throughout my career, it's been refreshing for a lot of folks that I'm not running from [my] identity."
Only 10% of Hawaii's population identify as Native Hawaiian, though almost 24% of residents identify as multiracial, according to the U.S. Census Bureau. By contrast, nearly 38% of Hawaii residents identify as Asian and more than a quarter identify as white.
By embracing both his heritage and his youth, Ing hopes to engage a new generation of Hawaii voters — but those factors may pose their own challenges in a competitive primary against four experienced opponents.
Ing has already run into some trouble. It was reported earlier in May that he may have failed to report several contributions to his 2012 campaign against an incumbent Republican for Hawaii's state House. Ing told Mic he takes full responsibility for any errors that may have occurred.
"If any mistakes were made, it's ultimately my responsibility and no one else's," Ing said.
Ing, who was 23 years old at the time of the alleged infraction, said he was doing much of his campaign's financial reporting after his day job at the Four Seasons. This time around, he's surrounded himself with a "team of professional campaign staffers" to make sure nothing goes unreported.
Still, Ing is up against several experienced Democrats, including Hawaii Lt. Gov. Doug Chin. As Hawaii's attorney general in 2017, Chin made a national name for himself when he challenged President Donald Trump's travel ban in court.
Though supportive of Chin's actions on the travel ban, Ing said he takes issue with the lieutenant governor's more conservative record prior to Trump taking office. A former lobbyist for the Corrections Corporation of America, now called CoreCivic, Chin has worked to support policies that critics say helped advance the interests of Hawaii's private prison industry. This includes using his position as attorney general to authorize tens of millions of dollars in contracts to transfer Hawaii prisoners to a private, CC-run correctional facility in Arizona.
"[Hawaii] would ship 1,700 prisoners to Arizona to a private prison," Ing said. "We'd break them apart from their families. It's horrible. It's immoral."
His longtime opposition to the private prison industry is another reason he wanted to challenge Chin for the nomination.
"To fight for those values your whole life and then ... [do an] about-face when it's time to run for Congress, it just feels disingenuous," Ing said. "Seeing that he was a frontrunner in the race, I just felt compelled to put my name in."
In response, Chin's campaign manager Dylan Beesley highlighted the lieutenant governor's accomplishments.
"When Doug decided to make this first run for public office, people warned him to watch out for the career politicians, their negative campaigning and false attacks like this one," Beesley said. "Given that Doug has faced down Donald Trump's unconstitutional attacks on our country's values in federal court, this kind of false attack from a struggling politician mostly feels like kind of a nuisance. Doug Chin knows Hawaii can do better than typical politics, and that's a big part of why he decided to run."
Aside from Chin, Ing is facing state Sen. Donna Mercado Kim, who voted against the state's marriage equality bill as Senate president in 2013, and state Rep. Beth Fukumoto, who was a member of the Republican Party until 2017. He will also face Honolulu City Councilman Ernie Martin in the Aug. 11 primary.
Despite the crowded field, Ing remains confident his progressive politics and Hawaiian heritage will set him apart in a year when both progressives and Native candidates have seen success in Democratic primaries. If he does win the nomination for the relatively safe Democratic seat, Ing could set himself on a path to becoming one of the Democratic Party's next rising stars.