South Korean president heads to WH to try to salvage Trump's meeting with Kim Jong Un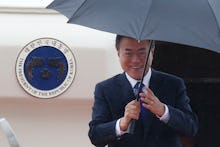 Welcome to Mic's daily read on Donald Trump's America. Want to receive this as a daily email in your inbox? Subscribe here.
Good morning from Emily Singer at Mic.
Here's what's happening in Trump's America:
• It's primary day in Arkansas, Georgia and Kentucky. And in Texas, a handful of contests will hold runoff elections.
Today in Trump's America: Can South Korea salvage Trump's meeting with Kim Jong Un?
South Korean President Moon Jae In flew across the world to meet with Trump in an attempt to save the summit Trump has planned with Kim in Singapore next month.
The White House is growing increasingly concerned the meeting could turn into a "political embarrassment" for Trump, both because North Korea seems to already have taken denuclearization off the table and because Trump is not putting in the work to learn about the nuclear program, something necessary to have a substantive conversation.
South Koreans, however, blame Trump's national security adviser, John Bolton, for the problems with the summit, according to the Washington Post.
That's because Bolton said he wants the North Korean denuclearization process to go like the one that happened in Libya in 2003, when then leader Muammar Gaddafi agreed to give up his country's nuclear program in exchange for sanctions relief. But years after Gaddafi ended Libya's nuclear program, he found himself in the midst of a coup that ultimately left him hiding in a drain pipe where he was captured and later killed.
"Bolton's preposterous 'Libya solution' is a red light in North Korea's summit talks with the U.S. and South Korea," Chung Dong-young, a South Korean lawmaker, wrote in a Facebook post, according to the Washington Post.
Trump and Moon won't have a news conference after their meeting Tuesday to discuss the North Korean summit, so we won't learn right away from the leaders how the meeting went. Instead, Americans will have to wait for a readout from White House aides and aides to Moon to try to piece together what happened in the discussion between the two leaders.
Capitol Hill happenings: Primary day
Tuesday marks yet another primary day in the midterm election slog, as voters in Arkansas, Georgia and Kentucky head to the polls to pick nominees. In Texas, a handful of races will hold runoffs that were triggered when no candidate won a majority in the state's March primaries.
Expect Tuesday night to continue the trend of Democratic women candidates winning the nomination in a year when women voters will be crucial in determining which party controls Washington.
Your NTA author wrote a handy rundown of the big races to watch tonight as results come in. But as a primer, here are some of the biggest contests:
#GAGov: Both parties have primaries in this open-seat race for governor in the Peach State. On the Democratic side, Stacey Abrams and Stacey Evans face off. Abrams, an African-American woman and the former state Assembly minority leader, is the favorite in the contest. On the Republican side, Lt. Gov. Casey Cagle is the favorite, but given the larger GOP field, the race is likely headed to a runoff with Secretary of State Brian Kemp possibly taking the second-place spot. You might have seen Kemp's ad pointing a shotgun at a potential suitor for his daughter.
#KY06: Democrats are optimistic they can unseat incumbent Rep. Andy Barr in this seat, based in Lexington, Kentucky. But first, they must choose their nominee. Lexington Mayor Jim Gray is seen as the favorite, but he's facing off with retired Marine Corps Lt. Col. Amy McGrath, a fighter pilot who has run some eye-catching ads about her service. In a year when women are dominating the primary ballot box, McGrath may pull off a win.
#TX07: The Democratic Congressional Campaign Committee threw a wrench in this race when it came out against Democrat Laura Moser — who had written condescending articles about Texas when she lived in Washington, D.C. Moser made the runoff with another Democratic woman, attorney Lizzie Pannill Fletcher. Fletcher is seen as the favorite, as she has a better campaign operation. But in primary runoff, anything can happen.
And the rest…
Michael Cohen: In April, Trump's personal lawyer Michael Cohen "helped a major donor to Mr. Trump's inauguration pitch a nuclear power investment to the Qatari sovereign wealth fund," the Wall Street Journal reported.
Can't make it up: Trump uses a cellphone that "isn't equipped with sophisticated security features" to protect him from being hacked or surveilled, Politico reported. This from a president who accused Hillary Clinton of putting national security at risk with her email server.
Hooked on phonics: Trump aides say they purposefully inject spelling errors into Trump's tweets to trigger elites, the Boston Globe reported.
Greener pastures: Former Rep. Charlie Dent (R-Pa.), who resigned from Congress in May before his term expired, has taken a job as a contributor for CNN.