How one woman created an online emporium for those with disabilities wanting fashionable accessories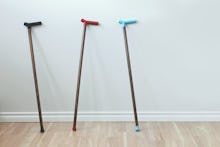 It all started with a pink cane covered in roses. Alexandra Connell was out shopping with her mom, who had just been diagnosed with brain cancer and was now in need of a cane. But Connell's mom didn't want just any old cane — she wanted a fun cane, a fashionable cane, a cane that would make her day. She wanted a cane that, ideally, came covered in leopard print.
There was no leopard print cane that Connell could find, however, so she finally opted for one that was just as fun: a bright pink cane, covered in a rose print. What Connell and her mother found immediately, after days of using it, is that it caused more people to approach Connell's mother and strike up a conversation. That meant everything to Connell's mother at the time.
"The power of fashion allowed her the power of conversation," Connell said in an interview. "A lot of times when you are disabled, the fashion offered to you makes people want to stay away. That cane made people want to come toward my mom, and approach and talk to her, which always made her feel better."
That's what sparked the realization for Connell that people with disabilities, just like everyone else, want to be fashionable, and yet many of the accessories for them — whether they be canes or wheelchair bags or arm slings or hearing aides — feel undeniably medical and sterile.
"People with disabilities are going to work, they want to look beautiful," Connell said. "Kids with disabilities want to look cool, just like any other kid."
Last summer, Connell, who was diagnosed with ADHD and dyslexia as a child, opened her own online marketplace, called Patti + Ricky, that sells fashionable accessories for people with various disabilities. With sections for women, men and children, Patti + Ricky offers products including lingerie for wheelchair users, compression sleeves printed to look like you have tattoos, braille-printed jewelry, fidget jewelry, charms for hearing aides, kid-friendly eye patches, shirts with magnetic closures and the kinds of fashionable canes Connell's mother would have loved.
It's where customers can find accessories for themselves that blend both function and fashion.
The name of the store is in honor of Patti, Connell's late mother, and Ricky, Connell's cousin she grew up with who couldn't walk or talk. "Every time we curate a product, we think of them and think about whether they would think it was cool," Connell said.
The goal of Patti + Ricky is to not only expose customers to these products, but also to support the designers who are making these critical garments, many of whom have a direct connection to this community.
"A lot of designers, including myself, have disabilities or have a loved one with disabilities," Connell said. "I want to support these designers. It's very key to have these people who are disabled involved in the process. I think if you don't have that, then that's when problems come up."
Less than a year since the website launched, Connell has seen the effect of these garments and accessories, connecting with women who are in search of lingerie after going through surgeries and parents who have kids that are weary of their new hearing aide.
"Because I've been around disability for so long, and studied disability [at Columbia], this store was an obvious move to make," Connell. "Let's bring these designers together and make this a beautiful thing. Disability transcends all minority groups and even as we age, many of us become disabled. People are born with disabilities. Disability will touch everyone, in some way, eventually."
What Connell ultimately hopes for the future of Patti + Ricky is that it will continue to grow with the help of customers recommending new products, and eventually spawn pop-up stores as well, with one planned (hopefully) for this summer.
"I hope that our customers are with and without disabilities," Connell said. "Individuals that have been searching for style and function and people without disabilities, looking for gifts for individuals in their lives that they love who may have a disability. Our customer is someone who is stylish and wants to have conversations, with fashion's help."