Sephora announces launch of in-store makeup classes for transgender and nonbinary individuals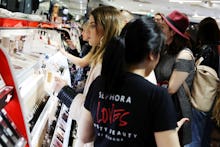 Starting in June, Sephora stores will offer makeup classes and programming for members of the transgender and nonbinary communities. The classes are part of Sephora's Classes for Confidence series that looks to empower people with makeup while they go through major life transitions.
The classes will be offered at 150 different store locations across the country, and will cover skincare and makeup tips, including how to find the right shades for your complexion. At least one class is titled "Bold Beauty for the Transgender Community," as seen on Sephora's website.
(This class is said to be taught by "trans-sensitive instructors" but does not say whether those teaching will be trans or nonbinary.)
According to Dominique Anderson, a color consultant at Sephora's 34th Street location in New York City, the class is developed by trans Sephora employees and encourages attendance from friends, families and allies of these communities.
"There was a time that I felt as a trans person I had no idea where I fit into beauty," Anderson told Them. "It was when I began shopping at Sephora that I knew it was a place where I was free to be myself. Sephora welcomed me with open arms and it's why I work at this company. During these classes, I hope to teach clients tricks that I use myself to soften up features and achieve certain looks. I want to instill confidence in my clients so that when they walk out of Sephora, they feel comfortable letting the world know who they are."
In addition to these in-store classes, there will also be a series of video tutorials on Sephora's many YouTube channels, as reported by Them, that will also be led by Sephora's own trans beauty advisers. Topics in those videos will include color correction and smoothing skin.
As Mic previously reported, makeup can have an invaluable effect on a transgender or nonbinary person's life, in not only defining who they are but, in some cases, making them feel safer. 2018 is already on track to be the deadliest year for transgender people. For some people, "passing," or being easily recognized as their gender, means life or death, and makeup does have the ability to make transgender individuals feel safer going out in public, particularly before undergoing hormone therapy.
In offering this programming for free, and at multiple locations across America, Sephora could very well be saving lives.