GLAAD just published its annual report on LGBTQ representation in film for 2017 — and it's bleak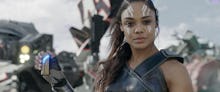 The march toward progress is rarely a perfect, upward-trending straight line. More often than not, it's more of a two steps forward, one step back situation. Need proof? Look no further than GLAAD's report on LGBTQ representation in film for 2017, which seems to have been a particularly bad year.
Of the 109 films released by the seven highest-grossing film studios, just 14 of them — 12.8% — included characters that are LGBTQ, according to GLAAD's report released Tuesday. Zero films released under these major studio labels in 2017 included a transgender character. By GLAAD's metrics, 2017 was the worst year in film for LGBTQ representation since 2012, which is when it began tracking this data.
Among the bad news, one bright spot: Despite the low amount of queer representation overall, the queer characters that did show up were more racially diverse than in previous years.
"In 2017, 57% of LGBTQ characters were people of color, compared to 20% in films released in 2016 and 25.5% in 2015," GLAAD reported. "Of the 28 LGBTQ characters counted, 12 were white (43%), eight were Black/African American (28.5%), and eight were Latinx (28.5%). There were zero Asian/Pacific Islander LGBTQ characters or any other race/ethnicity."
These figures include characters like Blair (played by Zoë Kravitz) in Rough Night, who shares an on-screen kiss with her girlfriend, Frankie (played by Broad City's Ilana Glazer). It does not, however, include Tessa Thompson's character Valkryie from Thor: Ragnarok. Valkyrie is bisexual in her comic book source material, but that's never mentioned in the movie itself.
A few more key findings from the report:
• "Gay men remain the most represented in film by far with 64% (nine) of the inclusive films featuring gay male characters."
• "Lesbian representation remained steady, up one point to 36% (five) of inclusive films including lesbian characters."
• "There was a small increase in bisexual representation: 14% (two) of major studios' LGBTQ-inclusive films counted bi characters as compared to 13% in the previous year's report."
• "GLAAD tallied 28 total LGBTQ characters among all mainstream releases in 2017, down from 70 in 2016 and 47 in 2015. It is important to note that 14 of the characters counted in 2016 were part of a single musical number in Universal Pictures' PopStar: Never Stop Never Stopping, which misleadingly inflated the numbers that year." (Editor's note: LOL.)
Once GLAAD tallied all of the data, it also assigned each of the studios a rating: excellent, good, insufficient, poor or failing. Universal Pictures and 20th Century Fox scored the highest with ratings of "insufficient"; Paramount, Sony and Walt Disney earned "poor" ratings; Warner Bros. and Lionsgate were deemed "failing."
It's important to note that GLAAD's figures don't include films released by major studios' "art house" (read: much queerer) offshoots, like Sony Pictures Classics, which distributed Oscar-winning films Call Me by Your Name and A Fantastic Woman. Nor does it include Battle of the Sexes, which was distributed by Fox Searchlight. These queer-inclusive films, despite not factoring into GLAAD's final tallies, received individual shout-outs on their parent company's pages.
So far, 2018 looks to be a bit brighter for mainstream queer representation. Love, Simon, Deadpool 2 and Annihilation — all of which were released by one of the major film studios on GLAAD's radar — feature explicitly queer characters. Here's hoping the rest of 2018 continues the trend.
Or, put more simply:
Please and thank you.