Trump suggests summit with Kim might not happen: "Whatever it is, it is"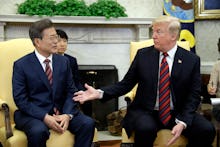 President Donald Trump is suggesting that his planned meeting with North Korean leader Kim Jong Un might not happen next month, telling reporters in the Oval Office on Tuesday that "there's a very substantial chance that it won't work out."
"If it [happens], that'll be great," Trump said during a meeting Tuesday with South Korean President Moon Jae-in. "If it doesn't, that's OK, too."
"Whatever it is, it is," he added.
Trump announced earlier in May that his much-anticipated summit with Kim would take place in Singapore on June 12.
"We will both try to make it a very special moment for World Peace!" Trump tweeted on May 10.
But the fate of the meeting has been cast in uncertainty in recent days after North Korea threatened to cancel it over joint military exercises in the region by the United States and South Korea. Trump himself has reportedly grown wary of the planned summit, fearing that it could result in a "political embarrassment."
Moon — whose outreach to Pyongyang this year paved the way to the planned meeting between the U.S. and North Korea — was in Washington on Tuesday to meet with Trump and attempt to salvage the summit.
Speaking through a translator to reporters in the Oval Office, Moon opted for flattery, praising Trump for getting "one step closer to the dream of achieving complete denuclearization on the Korean peninsula and world peace."
"All this was possible because of you, Mr. President," Moon said.
The South Korean president spoke of the upcoming meeting between Trump and Kim as though it were a certainty in his remarks to reporters. But Trump was more noncommittal, saying that "there are certain conditions that we want" and that he would cancel or delay the summit if they weren't met.
Hawks could "undermine the process"
Trump declined Tuesday to say what the conditions are, but reiterated that his overall goal would be for North Korea to completely denuclearize.
How exactly that would happen is unclear, though.
John Bolton suggested in April that the administration may pursue the "Libya model of 2003, 2004," in which Libyan leader Muammar Gaddafi abandoned his nuclear program in exchange for sanctions relief before being killed in 2011 during a U.S.-backed uprising. But North Korea took exception to that notion and threatened to pull out of the planned summit over its "feelings of repugnance" toward the hawkish national security adviser.
According to Jessica Lee, interim executive director of the Council of Korean Americans, rhetoric from "hawks" like Bolton could get in the way of progress on the peninsula.
"It's unfortunate that the Trump-Kim Summit is threatened precisely when we're benefiting from confidence-building measures, such as the release of three Korean-American prisoners from North Korea," Lee said in an email interview. "I hope President Trump feels secure in his ability to negotiate with North Korea and push forward with the summit, rather than let hawks undermine the process."
Trump on Tuesday seemed to distance himself from Bolton's proposed Libya approach, maintaining that "it would certainly be better" if Kim gave up his nuclear program all at once, but allowing for the possibility of North Korea to denuclearize in phases.
Rep. Ro Khanna (D-Calif.), who has been a leading voice calling for diplomatic solutions on the peninsula, said in a phone interview that the president needs to "stand up to" the neoconservatives like Bolton in his administration and adopt a more incremental approach.
"I think the president should trust his own instincts as a dealmaker," Khanna said. "He should go and try to make the best deal he can with the North Koreans and not have his advisers set too high of an expectation and wind up walking away with nothing."
"We'll see what happens"
Trump's suggestion on Tuesday that he might cancel or push back the summit is something of a shift for the president, who has been accused of spiking the football before reaching the end zone with the North Korea negotiations.
He has consistently raised expectations for the summit. He bragged recently that "everyone thinks" he should win the Nobel Peace Prize for his role in getting North Korea to the negotiating table. His administration has even reportedly minted a coin with Trump and Kim on it commemorating what would be a historic meeting in June.
But he not only suggested Tuesday that the meeting may not happen — he also suggested that it might not go anywhere.
"You never know about deals," Trump said. "I've made a lot of deals. I know deals I think better than anybody knows deals. You never really know."
"We'll see what happens," he added.
Still, according to Catherine Killough, the Roger L. Hale fellow at Ploughshares Fund who focuses on North Korea's nuclear program, Trump appears to remain inclined to keeping the dialogue open with Kim — a promising sign in and of itself, given last year's heightened tensions on the peninsula.
"If we can just maintain this level of low hostilities, that's a success," Killough said in a phone interview, noting that Trump "seems to be resisting the temptation to resort to military threats, which is where we were last year."
Khanna agreed, telling Mic that the meeting could pave a "path to peace" and be a step toward stabilizing the peninsula.
"I think the meeting in itself would be a win," Khanna said.