Stacey Abrams wins Georgia Democratic gubernatorial primary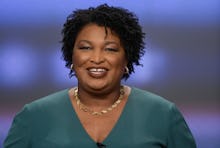 Stacey Abrams easily won the Democratic gubernatorial primary in Georgia over fellow Democrat Stacey Evans on Tuesday night, defeating her 74% to 26% with a third of the vote in when the Associated Press called the race.
"Tonight's victory was only the beginning," Abrams wrote in a Facebook post. "The road to November will be long and tough, but the next step is one we take together.
Abrams is now one step closer to becoming the first black woman governor in the country. According to the Center for American Women in Politics, she is the first black woman major party nominee for governor nationwide.
It's unclear who she will face off with on the Republican side, as the GOP primary looks like it will be headed to a July 24 runoff between current Lt. Gov. Casey Cagle and either Secretary of State Brian Kemp or Hunter Hill.
Abrams is gunning to win statewide in Georgia in November, thanks to changing demographics that operatives from both sides of the aisle say are slowly turning Georgia into a purple state. In the past, Democrats have put up more moderate candidates for statewide races, such as Michelle Nunn and Jason Carter in 2014, who ran for Senate and governor, respectively.
Abrams has run an unabashedly progressive race, winning support from both Hillary Clinton and Sen. Bernie Sanders (I-Vt.) in the process — making her the rare candidate that straddles the schism in the Democratic Party.
Whether Abrams can win as an out-and-proud progressive in a state President Donald Trump won by five points in 2016, however, is another story.
"That's the million-dollar question," John Ernst, the Democratic mayor of Brookhaven, Georgia, who backed Evans in the race, said in an interview.
"Georgia has been ruled by old Southern Democrats till this election," Ernst said, adding that Georgia's last two governors — Sonny Perdue and current Gov. Nathan Deal — were at one point Democrats before switching parties to run and win as Republicans. "Casey Cagle, Brian Kelp, any of these other folks on the Republican side, they were never Democrats. So this is a bigger race than Democrat vs. Republican, but the first race in history that the old mindset of the Southern Democrat is barely represented at all."
Meanwhile, Republicans are cautiously optimistic about their chances against Abrams in November.
"First and foremost, I don't think any Republican should be taking any race for granted any place in the country this cycle. All the factors seem to exist for what is likely going to be a wave election for the Democratic Party," Republican strategist and Georgia resident Chip Lake said in an interview. "That being said, Republicans should certainly be able to beat Stacey Abrams in Georgia. She has run a very [progressive] campaign, a very liberal campaign ... and it's not a dynamic we're used to seeing a lot in Georgia."
Stu Rothenberg, a nonpartisan political analyst, is also skeptical about Abrams' odds of winning.
"I think Democrats have been a little overenthusiastic in places like Georgia," Rothenberg said. "Ultimately, demographic changes will help the Democrats. ... But I think that there has been a bit of overexuberance or premature enthusiasm."
Inside Elections currently rates Georgia's gubernatorial race as "likely Republican."