Who's Sorry This Week? A 'Drag Race' competitor, Bill Russell, Getty and other public apologies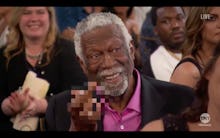 Another week, another deluge of apologies.
In Who's Sorry This Week? Mic tracks down the most prominent mea culpas from celebrities, companies and other public entities trying to make amends for their various screw-ups.
This week had no shortage of apologies, so let's get right to it.
RuPaul's Drag Race semifinalist Asia O'Hara is sorry she endangered a bunch of butterflies during a lip sync performance
On Thursday night, VH1 aired the finale of the 10th season of RuPaul's Drag Race, a reality competition show in which a horde of drag queens fight to be crowned America's next drag superstar. To determine a winner, the final four queens were split into two to compete in a bracket-style elimination, lip syncing and dancing to songs, hoping to outdo the queen occupying the stage alongside them.
During a lip sync to Janet Jackson's "Nasty," Asia O'Hara hoped to catch the eye of Drag Race's ultimate judge, RuPaul Charles, by incorporating a series of dramatic reveals into her routine. Throughout the song, Asia opened chambers on her colorful outfit — on her wrists, and in her rosebud-shaped breast adornments — to reveal (mostly) live butterflies.
Instead of flying out and into the audience, as she no doubt intended, these poor things just flopped onto the ground, where surely a few were trampled as Asia and her competitor, Kameron Michaels, continued performing. According to journalist Kevin O'Keeffe (full disclosure: a friend who also used to write for Mic), who attended the finale taping in Los Angeles, filming was temporarily halted once the song ended while the butterflies were cleaned from the stage.
As soon as the disastrous moment aired, Asia posted a lengthy statement on her Twitter, apologizing for the gaffe.
"I just want to let everyone know how sad and heartbroken I am by the way my lip sync performance during the finale of RuPaul's Drag Race turned out," she said. "Despite months of research and rehearsing with a professional company, what I hoped would be an amazing and safe display of optimism, and a surprise for everyone, including production and the network, it did not go as planned. I would like to publicly offer the entire world my deepest apology."
Asia went on to say she and her friends are planning to donate over 100 volunteer hours to the ASPCA to make amends.
Former Trump aide David Bossie is sorry for telling a black man he was out of his "cotton-picking mind"
On Sunday, during a segment on Fox & Friends Weekend, David Bossie, who once served as deputy campaign manager for Donald Trump, traded jabs with Democratic strategist Joel Payne, who is black.
At one point, Bossie told Payne he was out of his "cotton-picking mind."
According to the Daily Beast, Bossie's racist outburst led to a two-week suspension as a Fox News contributor for two weeks. Bossie apologized the day the segment aired, saying he "should have chosen [his] words more carefully."
"I apologize to Joel Payne, Fox News and its viewers," he said.
Bill Russell is sorry he gave the middle finger to Charles Barkley on live television
Monday night, during the NBA Awards, the camera cut to basketball legend Bill Russell, who was in the midst of a not-so-TV-friendly gesture. He was throwing a middle finger up at Charles Barkley, basketball commentator and former pro player, who was speaking onstage.
Apparently, Russell forgot he was on camera, and issued a short apology on his Twitter — though, to be honest, he seems pretty pleased with himself.
"Sorry everyone," he said. "I forgot it was live TV & I can't help myself whenever I see Charles it just is pure instinct."
Actor Lakeith Stanfield is sorry he posted a homophobic rap video on social media
Lakeith Stanfield, an actor who has been in important films like Selma, Get Out and The Purge: Anarchy, likes to post videos of himself rapping on Instagram. In a recent video, which has since been deleted, he rapped the following, according to the Huffington Post.
"Take that chump change back, that's some gay shit/ Only black rags in my cab like I'm racist/ Fag, I don't really like to brag, but I'm straight rich."
Stanfield later posted a follow-up video in which he justified the rap because he was playing a character who was homophobic — but said the real Stanfield himself is actually a super-great guy.
"I make videos all the time, which I usually end up deleting as soon as I make them," he said on Instagram, according to HuffPost. "I assume characters that have different viewpoints and different views on life, and just from different perspectives. Some things my views are in line with, and some things my views aren't aligned with. And this character that you've seen is a character I'm definitely not in line with and I definitely don't believe those things."
The video embedded above doesn't actually contain the words "apologize" or "I'm sorry," but according to Variety, Stanfield did indeed apologize in a video, which has seemingly been deleted.
"I apologize if I hurt anybody, sincerely," Stanfield said in a video, according to Variety. "That wasn't my intention — to be somebody that was out here just slinging arrows and hurting people, so I want them to know that I apologize that they had to feel sadness from that. So, my sincerest apologies."
Getty Images is sorry it posted a gallery of the "sexiest fans" at the World Cup
Earlier this week, the photo agency Getty Images posted a gallery of the "sexiest fans" from the World Cup meant to feature the most attractive people from around the world watching some good ol' fashioned fútbol.
Many swiftly noted the gallery only featured conventionally attractive women, which inspired critiques that Getty was being sexist. Getty soon took the gallery down and apologized.
"Earlier, we published a piece, 'World Cup 2018: The Sexiest Fans,' that did not meet our editorial standards," Getty said, according to Jezebel. "We regret the error and have removed the piece. There are many interesting stories to tell about the World Cup and we acknowledge this was not one of them."
Live Nation is sorry it was selling Shakira merchandise that looked like it had a Neo-Nazi symbol on it
For $9.99, Live Nation was offering its fans a small piece of Shakira's "El Dorado" world tour: a necklace with a golden sun-inspired design. German news site Bento, according to CBS News, noted the symbol bore an eerie resemblance to the "Black Sun," a symbol used by Neo-Nazis.
Live Nation pulled the necklace from its site, apologizing and saying it was meant to evoke "pre-Colombian imagery."
"Some fans have expressed concern that the design bears an unintentional resemblance to Neo-Nazi imagery," Live Nation tweeted. "We sincerely apologize for this inadvertent similarity and have permanently pulled the item from the tour collection."