Women veterans win Democratic primaries in Kentucky, Texas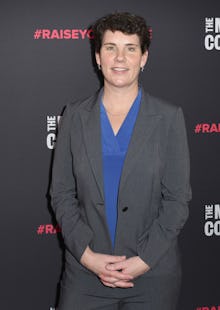 Two women military veterans won Democratic primaries Tuesday night in House districts key to the party's quest to retake a majority in November.
In Texas' 23rd Congressional District, out gay Iraq War veteran Gina Ortiz Jones — who served as an Air Force intelligence officer during the "don't ask, don't tell" era — defeated Rick Trevino, who had the support of Sen. Bernie Sanders' Our Revolution group.
Ortiz Jones defeated Trevino 67% to 33%, with 43% of precincts reporting, the Associated Press reported on Tuesday night. She will now face GOP Rep. Will Hurd in a district Hillary Clinton won by a four-point margin in 2016. Inside Elections currently rates the seat a toss-up.
Meanwhile, in Kentucky's 6th District, retired Marine Corps Lt. Col. Amy McGrath pulled off an upset win, defeating sitting Lexington Mayor Jim Gray 48% to 41%, with 88% of precincts reporting, according to the Associated Press.
McGrath will go on to face GOP Rep. Andy Barr in a district Trump won by 15 points in 2016.
While the district backed Trump, Public Policy Polling found in February that the president's popularity is low in the district, and that Barr "could be vulnerable" against a Democrat. Inside Elections currently rates the seat as "lean Republican."
The Democratic Congressional Campaign Committee, which worked to recruit Gray into the race, is now embracing McGrath's candidacy and released an internal poll showing McGrath with a 15-point lead over Barr.
Both Ortiz Jones and McGrath are part of a growing trend of women veterans running for Congress as Democrats in competitive districts in 2018.
In Pennsylvania's newly redrawn 6th District — now much more favorable to Democrats — Chrissy Houlahan became the Democratic nominee in an uncontested race Thursday. Houlahan, an Air Force veteran, is the odds-on favorite to win in November, with Inside Elections rating the seat "likely Democratic" after current Rep. Ryan Costello decided not to run for re-election.
In New Jersey's open 11th District — a competitive seat being vacated by retiring GOP Rep. Rodney Frelinghuysen — Navy veteran Mikie Sherrill is considered the frontrunner for the Democratic nomination. The district is rated "tilt Democratic" by Inside Elections.