While you weren't looking: 5 stories from the Trump Cabinet that aren't about so-called witch hunts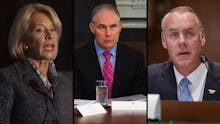 This week, major news organizations were forced to focus their attention on yet another manufactured scandal from the Trump administration.
This time the Trump administration managed to suck all the oxygen out of the news cycle with claims that the FBI had embedded a spy within Trump's 2016 campaign — claims that, at this point, appear entirely unfounded.
But while Trump was directing everyones attention to that sideshow, his administration continued to carry out important policy decisions that could have real consequences for everyday Americans.
Here are five big stories you might have missed.
The Interior Department will allow hunters to hunt bears with donuts and bacon on federal lands
The Department of the Interior is reversing an existing regulation against luring Alaska brown bears into traps using bacon and donuts, according to a new report from NBC News.
In addition, they will also reverse rules against allowing hunters to use spotlights to kill black bear mothers and their cubs who are hibernating in their dens, hunt black bears with dogs, kill wolves and their pups in their dens and shoot swimming caribou using motor boats.
The National Park Service issued its notice of intent to change the rules on Monday.
The rule changes are opposed by groups like the Humane Society of the United States, which view such hunting methods as inhumane.
Scott Pruitt's guards push reporters out of event on water contamination
For two consecutive days, the Environmental Protection Agency has barred journalists from its conference on water contamination, at times using force.
On Tuesday EPA guards turned away reporters from the Associated Press, CNN and E&E News who were attempting to cover the agency's summit on water contamination in the U.S. One journalist, Ellen Knickmeyer of the Associated Press, was grabbed by security and forcibly shoved out of the event after asking to speak to an EPA public affairs official. She was later permitted to attend the event.
On Wednesday, journalists from Politico and at least two other outlets were barred from the event. Security claimed that the event was not open to the press.
The EPA may have a reason not to want reporters covering its water contamination event. Last week, Politico reported on explosive communications between the White House and EPA officials seeking to prevent the release of an HHS report on water contamination in at least three states.
Betsy DeVos tells schools they can decide for themselves whether or not to report undocumented children
Betsy DeVos says it's up to individual public schools to decide if they will report undocumented students, decisions that could potentially upend the lives of undocumented families.
At a Tuesday hearing before the House Education and the Workforce Committee, Rep. Adriano Espaillat (D-N.Y.), Congress' first formerly undocumented representative, asked DeVos if she thought school officials should report their own undocumented students.
"That's a school decision. It's a local community decision," DeVos responded. "We have laws and we also are compassionate."
A 1982 Supreme Court decision found that students have a right to public education regardless of their immigration status. Schools have previously been considered "sensitive locations" by the Department of Homeland Security, where Immigration and Customs Enforcement agents typically do not go.
Ben Carson scraps tool for helping communities monitor housing segregation
Housing and Urban Development Secretary Ben Carson is continuing to roll back federal protections against housing discrimination, according to a report from the Washington Post.
Late last Friday, Carson's HUD announced it would be removing an online tool that allowed communities to assess levels of housing segregation using maps and other data.
HUD told the Post that the tool was "confusing, difficult to use and frequently produced unacceptable assessments."
Under a 2015 rule, communities that relied on federal housing support were instructed to use the tool to assess levels of housing discrimination and create plans to fix them in order to receive federal funding.
Carson had previously tried to scrap the 2015 rule altogether but was facing a lawsuit from housing rights groups. Now those same groups say that by removing the tool, Carson is trying to achieve the same result without having to face them in court.
Mick Mulvaney signals intent to roll back lending discrimination rules
In yet another case of the Trump administration rolling back anti-discrimination rules, the head of the Consumer Financial Protection Bureau, Mick Mulvaney, has signaled his intent to change Obama-era rules that punish lenders for unintentional discrimination.
Mulvaney slipped the news into a press release celebrating Trump's repeal of an auto-lending law, in a comment first picked up by the American Banker on Monday.
Citing a 2015 Supreme Court decision on housing discrimination, Mulvaney said he would be "reexamining the requirements of the [Equal Credit Opportunity Act]."
Signed in 1974, the ECOA is a law that protects consumers from discrimination in the home loan market. Under the Obama administration, regulators were empowered to penalize lenders who engaged in discrimination, even where it was not clear that the lender had done so intentionally.
Based on the referenced court decision, it appears Mulvaney is preparing to change the rules so that consumers would have to prove that lenders had specific intent to discriminate before seeking relief under the law.