Things get worse for Michael Cohen as longtime business partner cuts plea deal with investigators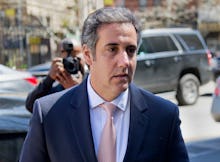 A longtime business partner of Michael Cohen will reportedly cooperate with authorities to avoid jail time, further tightening the screws on President Donald Trump's embattled personal attorney and fixer.
According to the New York Times, Evgeny A. Freidman — who worked with Cohen in his New York taxi business — pleaded guilty Tuesday to one count of tax evasion as part of a deal to "cooperate with the government as a potential witness" in "state or federal investigations."
The plea agreement comes as Cohen faces a federal investigation into a range of possible crimes, including potential campaign finance violations related to a $130,000 payment he made to porn actress Stormy Daniels just weeks before the 2016 election. Daniels, who claims she had an affair with Trump in 2006, said the payment was made in exchange for her silence.
The probe may pose a significant political and legal threat to the president, whose lawyers have warned that Cohen is likely to flip against him.
It's unclear what information the so-called "Taxi King" has provided or will provide to investigators, but the Russian immigrant helped manage Cohen's cab business for years, according to the Times. He had been accused of four counts of criminal tax fraud and one count of grand larceny, each punishable by up to 25 years in prison.
Freidman "considers [Cohen] a very good friend and a great client," his lawyer, Patrick Egan, said earlier in 2018, according to the Times.
The guilty plea could have significant impact on the Cohen investigation and, perhaps, implications for Robert Mueller's Russia probe.
The FBI raided Cohen in April under referral from the special counsel, and recent reports have suggested overlap between the two investigations.
Daniels attorney Michael Avenatti suggested in a tweet Tuesday afternoon that Freidman wouldn't be the only one to be brought down by the investigation.
"The first of many," Avenatti said of the plea agreement. "That I can promise."