Lil' Kim, Madonna, Björk, Leonardo and all the rest of 'Interview' magazine's most iconic covers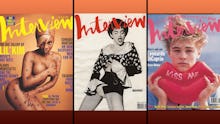 Another one bites the dust. Interview magazine, which was founded by Andy Warhol in 1969, is closing.
The legacy it leaves behind is one filled with actually interesting stories of celebrities interviewing celebrities, and a bevy of groundbreaking and truly beautiful covers. With a sharp eye on up-and-comers, and celebrities who weren't afraid to get a little weird, Interview gave us a ton of memorable covers over the past nearly 50 years.
Here are some of our favorites:
Bianca Jagger, January 1973
Denzel Washington, July 1990
River Phoenix and Keanu Reeves, November 1991
Leonardo DiCaprio, June 1994