Model Nyle DiMarco on how fashion isn't doing enough for people with disabilities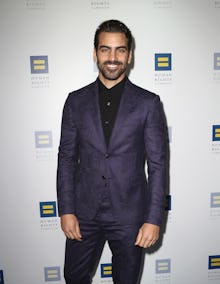 There are approximately 70 million people who are deaf, over 1 billion with a disability and the community has a spending power of an estimated $2 trillion-plus. And yet model Nyle DiMarco, who appeared on America's Next Top Model and is deaf said that fashion isn't doing enough.
"I think they're scared," DiMarco said in a recent interview with Mic. "Obviously, they want things to sell, right? But I think they forget that disability groups are the largest minority."
DiMarco said fashion is missing a huge opportunity to engage with people living with a disability.
"They need to be bold and bring in people with disabilities, and I guarantee you that they would get support," DiMarco said. "There would be a groundswell if we got those two communities together and I don't think that they haven't tried that yet.
"Like for example, I'm a model, I'm part of the fashion industry, but I still have that problem. There are big campaigns out there who were afraid to hire me because I'm deaf, no matter how I reassure them. And so it seems like it's a work in progress, and I'm not really sure how we can solve this problem."
"There are big campaigns out there who were afraid to hire me because I'm deaf, no matter how I reassure them."
But DiMarco has seen a change over in the past few years in how people interact with him as a model.
"I remember the beginning days of my modeling career," DiMarco said. "I was working with photographers, who I would meet and it was often the deer-in-headlights response."
DiMarco said he had — and still has — experiences with photographers and people on set who leave him out of conversations because of his disability.
"At a photoshoot, they make decisions about what they want to do and everything, but they have forgotten about me and I'm the model and so I should be the lead in this, or at least have a say in it," DiMarco said. "So it's that type of ableist thinking that, because I don't communicate in their language, they make decisions without consulting me."
However, DiMarco has had positive moments, especially when photographers are accepting and understanding of his ways of communication.
"I always make an effort," DiMarco said. "I text, communicate with them via my phone, gesture and they would always realize how easy it was, and they would say things like, 'Oh, that wasn't that hard,' and I'm like, 'No, it's not that hard.'"
What's helped him is not only people's expanding knowledge of deafness, but his own success as a model as well.
"At this point in my career, photographers that I work with, it really goes smoothly because I think there is more awareness out there and I've already proven myself and so they know what they're doing and they know that I know what I'm doing and it just works," DiMarco said.