Why progressives are fine with Hillary Clinton endorsing Andrew Cuomo over Cynthia Nixon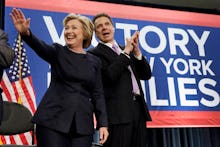 In February 2016, in the heat of the Democratic primary between Hillary Clinton and Sen. Bernie Sanders, former Secretary of State Madeleine Albright made headlines when she told a crowd of Clinton supporters, "There's a special place in hell for women who don't help each other!"
Though Albright had been using the line for years, in that particular context it had been interpreted as a barb against the many women who had chosen to support the progressive policy platform of the Sanders campaign over Clinton, the would-be first female major party nominee.
Now more than two years later, it's Clinton herself who is putting policy over representation. Clinton is choosing to support incumbent Democratic Governor Andrew Cuomo over progressive challenger and activist Cynthia Nixon, which she announced today at the New York state Democratic party convention, on Long Island, New York.
At the same time, the grassroots group Our Revolution, which was inspired by Sanders' campaign, has thrown support behind Nixon's candidacy, further reversing the fraught gender dynamics of the 2016 presidential campaign.
Both Nixon and Cuomo were supporters of Clinton's 2016 campaign. In a year when women candidates are running for office in high numbers, it might seem strange for the feminist icon to choose the incumbent male candidate over his female challenger.
In an essay for Cosmopolitan published nearly a year after the 2016 election, Clinton encouraged women across the country to run for office at every level. Yet, in her first 2018 endorsement where the two candidates were not both members of the same gender, Clinton is declining to endorse the woman in the race.
One might expect that decision to irk progressive candidates, as well as activists who are encouraging women across the country to get more involved in politics. But for many progressives, the decision seems completely reasonable and expected, and some even see it as vindication for their decision to support progressive men over more moderate women challengers in the past.
"Clinton is endorsing along her interests and politics," Alexandria Ocasio-Cortez, a progressive challenging incumbent Democrat Joe Crowley in New York's 14th congressional district, said. "I've endorsed progressive men as well."
In 2016, Ocasio-Cortez supported Sanders' campaign and helped organize for him in New York. Now she's running a campaign to unseat a close Clinton ally, in part by emphasizing a need for more diverse representation in her district.
By all accounts, Clinton is politically closer to Cuomo than Nixon. Both Cuomo and Clinton come from the more moderate, pro-business wing of the Democratic party who tend to only move left when pushed by their respective progressive bases. And supporters of both Cuomo and Clinton tend to place more emphasis on experience in office over the particular aspects of their agendas.
In addition, Clinton — a candidate known for rewarding loyalty — has a long history with Cuomo. During the 1990s, Cuomo worked as the Secretary of Housing and Urban Development in Bill Clinton's administration. In 1999, Cuomo decided against a potential Senate bid in New York, clearing a path for Hillary Clinton's eventual nomination. And in 2016, Cuomo, who was widely believed to have his own presidential aspirations, stayed out of the race and endorsed Clinton's campaign.
All of this is not lost on Clinton and Cuomo's progressive critics. Leftist journalist and commentator Glenn Greenwald said in a Twitter thread about Clinton's expected endorsement that he believed it was based on the two politicians' shared ideologies. He also suggested that he hoped it would be an opportunity for her supporters to reexamine their accusations that opposition to her 2016 candidacy was primarily rooted in identity politics.
Instead, progressives see encouraging more women to run for office as a way to increase the chances that a women candidate will emerge who shares their values.
"[This is] why having women in the progressive movement is so important," Ocasio-Cortez said. "So that we have leaders everywhere, and that gender rights are a priority on every ballot line."
For her part, Nixon did not mention the endorsement and kept her focus squarely on her opponent.
"New York Democrats deserve to have at least one actual Democratic candidate for governor at their state convention," Nixon said in a statement. "As Governor Cuomo has said himself, he's run this state in a way that would make any Republican proud."