Small kitchen, serious cook: 5 meals you can make with just $30 worth of groceries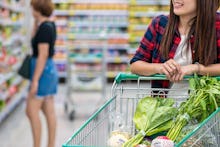 Grocery stores can be intimidating without a plan. My grocery shopping plan has typically been "don't spend too much," which isn't a concrete budget or a real goal. I've never budgeted seriously like I would for an exciting trip or for holiday gifts. But once I mastered stocking up my kitchen in a smart but minimalist way, I turned my attention to the challenge of coming up with five meals for $30. I figured this would help me stick to a budget — but it'd also make my roommates happy, since fridge space is one of the most precious amenities in a co-living space.
The planning
Recipe planning was like solving a puzzle; it required more time than I expected. I started with the items I wanted to build my meals from: tofu and chickpea pasta, both protein-high foods that could be stretched to more than one meal.
Setting a budget helped me figure out what was possible: I searched online for recipes that incorporated few ingredients, and assessed those recipes to figure out whether I really needed an ingredient and which ones I could do without. For example, I needed butter for a salmon recipe, but I could forgo the basil.
From there, I made a tentative list by estimating the cost generously (or so I thought), to make sure I had enough for the necessities. I created a list of "extras" that I'd include if I happened to have some wiggle room for cash. My list didn't include the basics like salt and pepper and butter, unless I needed to replenish.
The shopping
My cooking adventure occurred while visiting family, so the following prices are from a suburban Michigan grocery chain. I was happy to find several of the items on sale.
Extra firm tofu, $2.69
I learned quickly that shopping requires both flexibility and creativity. For example, I wanted blue corn chips for a black bean nacho recipe, but ran out of money. The chips became the first casualty, as I could substitute the pasta for the chips. Experimenting might feel stressful on the fly, but it's actually the fun part.
As shown above, I went over my budget by 18 cents — but it could've been prevented: I didn't thoroughly check to see if I already had some of the items on my list — in this case, garlic. Make sure to check the fridge, cupboards and anywhere else you stock food before heading out, and you'll avoid this rookie mistake.
Now, on to the cooking. Here's what I ended up preparing.
Roasted salmon and asparagus
Ingredients: Salmon, asparagus, butter, avocado oil, lemon, salt and pepper
Who knew such a simple recipe of asparagus and salmon would be so filling and delicious? This recipe required the fewest number of things to buy at the store, which is why it was perfect for this challenge. It was the easiest to prepare — but on the flip side, it was the most expensive, because salmon is pricy. I love that it was mostly healthy.
I followed OneDishKitchen's recipe but didn't have the budget for basil to sprinkle on top. Luckily, I made up for it by adding extra butter, a win-win in my mind. Fifteen minutes was perfect for my oven — the asparagus was soft yet crunchy, while the flaky fish was buttery smooth.
Tofu lo mein
Ingredients: Frozen veggies, tofu, ramen, garlic, salt and pepper, soy sauce, avocado oil
There are plenty of lists for dressing up ramen, but they mostly focus on the soup version. This "fast and easy" ramen was attractive to me since I was craving just noodles. I cut the recipe in half to avoid too many leftovers, which meant I could use the remaining tofu for another dish.
To give the dish even more flavor, I added garlic (I love garlic, especially a soy-garlic combo), and swapped the olive oil for avocado oil. I rarely use olive oil anymore — I've found that I prefer the more grassy flavor of avocado oil.
Chickpea pasta
Ingredients: Chickpea pasta, peppers, onion, spinach
Have you tried Banza chickpea pasta yet? It's a high-protein, high-fiber, gluten-free alternative to traditional pasta — a total game-changer. I've been eating it for a while now. When you're boiling chickpea pasta, it will get foamy, so just scrape the foam off during the boiling process. I tweaked Healthy Gluten-Free Family's recipe and used peppers, which made the dish peppery rather than tomato-y.
Because the dish lacked sauce, however, the pasta ended up with a grainy texture. If you do cook with this pasta, add sauce and you won't notice the difference.
Tofu scramble
Ingredients: Tofu, garlic, corn, peppers, spinach, garlic, corn, turmeric, salt and pepper
This a recipe I found on Pinterest months ago that I never got around to making. I was drawn to the bright, protein-packed photo that I initially thought was eggs. Turns out, this dish is totally vegan!
Adapted from Crazy Vegan Kitchen, I used the leftover tofu from the lo mein rather than buying separate tofu crumbles. I used my hands to break apart the tofu into "crumbles." Turmeric gave it that egg-scramble hue, and it smelled orangey and gingery while cooking. It was filling, and I would absolutely make this again. I'd try again with the ketchup the original recipe calls for.
Black bean pasta
Ingredients: Chickpea pasta, black beans, cheese, corn
I love cheese, and nachos are relatively cheap and easy to make. The Mama Maven's black bean nacho recipe was the inspiration for this pasta twist using leftover pasta and corn.
Next time, I'd mash the avocado and make a sort of guacamole, and also save some of the peppers to add here as well. And I'd definitely splurge on blue corn chips.