Cohen attempts to distance himself from "Taxi King" after guilty plea — but how are they connected?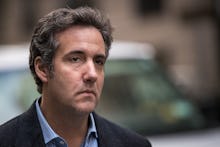 President Donald Trump's beleaguered attorney and fixer Michael Cohen tried to put some daylight between himself and a former business associate, after the so-called "Taxi King" agreed to cooperate with investigators, tweeting that on Wednesday the two "have never been partners."
"I am one of thousands of medallion owners who entrust management companies to operate my medallions according to the rules of the NYC Taxi and Limousine Commission," Cohen tweeted. "Gene Freidman and I are not partners and have never been partners in this business or any others."
Cohen's statement Wednesday appeared to be in response to reports Tuesday evening that "Taxi King" Evgeny A. Freidman had pleaded guilty to a charge of tax evasion. The plea is part of an apparent deal to serve as a potential witness in state and federal probes.
This is the latest bad development for Cohen. The 51-year-old is currently under investigation for a number of possible crimes, including potential campaign finance violations related to his $130,000 payout in 2016 to Stormy Daniels — the porn star who says she had an affair with Trump in 2006. The FBI raided Cohen in April as part of the probe, seeking information about his hush payments to Daniels and ex-Playboy Playmate Karen McDougal, who also says she had an affair with Trump, along with documents related to his portfolio of taxi medallions, CNN reported in April.
The investigation may pose a significant threat to Trump, who has been warned by his legal team that Cohen could flip on him as his legal troubles mount.
That legal pressure on Cohen appeared to increase on Tuesday, after Freidman cut his plea deal with investigators. It's not clear yet what information Freidman can provide authorities, but the New York Times described him as a "significant business partner" of Trump's beleaguered attorney.
"He built his empire by stealing"
So, exactly how are Cohen and Freidman connected?
According to reports, Cohen contracted Freidman to manage his fleet of New York City cabs while he worked for the Trump Organization. The two are also personal friends, according to both a lawyer for the "Taxi King" and Freidman himself — who told a Times reporter Tuesday that "Michael is dear, dear personal friend and a passive client!"
"That's it!" he texted the journalist, according to the Times, apparently objecting to the paper's report on the implications his guilty plea could have on the FBI's Cohen probe.
In a 2017 profile of Cohen, the Real Deal reported that he and Freidman became friends after "sparring over a stolen client" with one another in small claims court in the 1990s. Since then, they've been so close that Cohen evidently "helped name Freidman's oldest son," according to the publication.
Freidman had been the largest operator of medallions in New York City, with his company, Taxiclub, reportedly boasting a fleet of more than 800 cabs. But he has been in significant legal jeopardy since 2017, when he was indicted on four counts of first degree tax fraud and one first degree count of grand larceny for failing to pay about $5 million in Metropolitan Transportation Authority taxes.
Andreea Dumitru, the chief financial officer of Taxiclub, was also indicted on the felony tax fraud and grand larceny charges. The charges, announced by then-New York attorney general Eric Schneiderman in June 2017, carried up to 25 years in prison.
Dumitru, an immigration attorney, was separately charged with asylum fraud and making false statements earlier this year for allegedly submitting fraudulent asylum forms for more than 180 clients between 2012 and 2017. The two charges — announced in March 2018 — could carry prison sentences of 10 and five years, respectively.
On Tuesday though, authorities allowed Freidman to avoid jail time by pleading guilty to just one count of evading $50,000 in taxes in exchange for his cooperation. He will also be required to pay $5 million to the state of New York.
"Today, the 'Taxi King' admitted that he built his empire by stealing from New Yorkers," New York Attorney General Barbara Underwood said in a statement Tuesday. "Freidman pocketed money that should have provided much-needed investment in our transit system — and now he'll have to pay back every cent."