28-year-old trans woman Gigi Pierce shot and killed in Portland, Oregon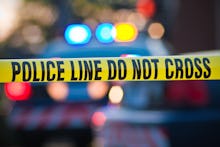 Gigi Pierce, a 28-year-old transgender woman from Boise, Idaho, was shot and killed late Monday night in Portland, Oregon. Pierce's death marks at least the 10th homicide of a trans person so far in 2018, according to Mic's own database tracking fatal violence against trans people.
Details about the crime are scant. Portland police said in a statement that officials believe there was a "disturbance between two people" on the sidewalk of a downtown Portland block around 11 p.m. Monday. Responding police found Pierce, who had been shot and was declared dead at the scene.
According to police, a suspect in Pierce's death, 33-year-old Sophia Adler, was taken into custody that same night and charged with murder. In a statement to Mic, Sgt. Chris Burley, a spokesperson for the Portland Police Bureau, said the investigation into Pierce's death was ongoing but that her killing was not believed to be "bias- or hate-based."
According to a 2016 estimate, trans people comprise just 0.6% of the U.S. adult population, but experience disproportionate rates of fatal violence.
While exact figures are inconclusive — and likely underreported, according to trans advocates — trans women accounted for 67% of hate-related homicides against LGBTQ people in 2015. Black trans women in particular have a one in 2,600 of being murdered, compared to one in 19,000 for the general population. According to 2014 numbers, trans women were 4.3 times more likely to become homicide victims than women overall.
Oscar Guerra-Vera, executive director of the Q Center, a local LGBTQ organization in Portland, told Mic on Wednesday that the center was planning an event in response to Pierce's death, though details have not been finalized. "It's been a hard week," they said.
In an interview with Mic about the death of Carla Patricia Flores-Pavon, a trans woman killed in Dallas earlier this month, trans rights advocate Leslie McMurray said violence against trans people is a reminder of systemic attacks on the value of trans lives — including the widespread lack of employment and housing protections and discriminatory laws that aim to control trans people's use of bathrooms.
"You look at that whole big stack and it's just this consistent drumbeat of discrimination that's institutional," McMurray said. "We want a solution to this, we want to feel like our lives have value."