Ryan Murphy's 'Pose' is the history lesson this generation of queer people desperately needs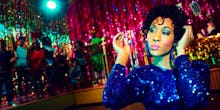 In the first 10 minutes of Pose premiere, FX's new series about ball culture in 1980s New York, I counted at least three different lines — like "10s, 10s, 10s across the board" and "the shade of it all" — I've heard on RuPaul's Drag Race.
"Why is Pose so intent on referencing a contemporary show like Drag Race?" I wondered. "Isn't that a little derivative and on the nose?"
Of course, I soon realized Pose was actually just evoking the vernacular of the period on which it's based, and Drag Race was actually lifting its code from elsewhere. I felt embarrassingly ignorant. But I'm probably not the only person who will go through that thought process when watching Pose for the first time. And that's exactly why the show is so important. (Remember when Drag Race contestant Derrick Barry thought people died at Stonewall?)
As Drag Race grows in popularity and continues to work — fine, "werk" — its terminology into our lexicon, a show like Pose is crucial in continuing to shed light on the places from which contemporary drag was born. It's a setting that shouldn't feel new or unfamiliar to anyone who has seen the landmark 1991 documentary Paris Is Burning, which captured this time period with affectionate detail, but Pose is uniquely situated to help a whole new generation of queer youth understand their roots.
Category is...historical realness
Pose is the latest series cocreated by Ryan Murphy and Brad Falchuk, who are behind shows like Glee, American Horror Story and Scream Queens. A number of other people — including writer Steven Canals, Transparent writer Our Lady J and author and activist Janet Mock — wrote and directed as well.
The first four episodes of Pose, made available to the press ahead of its June 3 premiere, follow an ensemble of characters with various ties to New York City's ball scene. During the balls set within the show, much like the ball events that inspired the series, members of "houses" — ragtag groups of queer youth, most of whom have been disowned by their biological families — dress up, dance and compete in different themed categories in the hopes of snagging trophies and, more importantly, gaining the respect of their competitors.
In the first few minutes of the premiere, we see one of these balls in a scene that perfectly encapsulates the fusion of drama and historical detail that Pose is all about. To open the ball, the elegant, ever-watchful Pray Tell (played by Broadway legend Billy Porter) introduces the night's first category.
"Royalty," Pray Tell says, eyes wide. "The category is: Bring it like royalty."
One by one, competitors confidently glide onto the makeshift runway, clad in gowns and capes, embodying royalty in their demeanors as much as — or, in some cases, more than — their clothing. Once a panel of judges sees enough, Pray Tell asks them to hold up scorecards.
"I don't know of a princess or a queen who gets their clothes from Casual Corner," Pray Tell quips to one group, as the once-confident smiles of its members slowly melt away. But that's when Abundance — a legendary house filled with transgender queens and queer people of color, helmed by the regal, vicious Elektra Abundance — bursts through the doors, causing the entire crowd to erupt in gleeful shouting.
Down the runway, the members of Abundance strut wearing bejeweled crowns, floor-length fur coats, ruffled gowns and other pieces that look like they're straight from the Victorian period — because they are. In the previous scene, these kings and queens break into a museum to "mop" (a nicer word for steal) a collection of garments fit for a queen, quite literally. But before the judges can give them their scores at the ball, a few policemen walk in and cuff the royal members of the House of Abundance and cart them off to jail. But none of that matters. To their peers, they've won the night.
It's the very first time we see a ball in Pose, and in many ways, it's a perfect distillation of what the show is all about. On the surface, it's a familiar sort of scene: There's an unexpected, last-minute entry into a competition that sweeps everyone off their feet. But it's set within an affecting, authentic-feeling context — in which these queens are dirt poor and willing to commit crimes to compete in these balls — that grounds and infuses everything with realistic detail.
And it's all so, so glam and fabulous.
In other words, many of the stories Pose tells throughout its first four episodes are not entirely unlike those you've seen time and time again in television dramas: Damon (played by Ryan Jamaal Swain), an aspiring dancer, struggles to balance dance rehearsals with his dating life and competing in balls; Blanca (played by MJ Rodriguez) can barely afford to buy Christmas gifts; Angel (played by Indya Moore), finds herself caught up in an affair with a married man, Stan (played by American Horror Story staple Evan Peters). But it's the circumstances surrounding these storylines that makes Pose stand out.
That guy Damon? He was kicked out of his childhood home for being gay, and only got an audition at his dance program because Blanca, his newfound mother, brought him in off the streets, where he was sleeping on park benches and dancing for money. Blanca is the transgender mother of the House of Evangelista, who's recently discovered that she's HIV positive. She sees her work as their mother as a way to accomplish something meaningful before the disease kills her. Angel is a trans sex worker struggling to figure out whether Stan actually has feelings for her, or whether she's just an object for him to ogle.
All of this, of course, is happening amid the balls themselves, showing the glittery, be-wigged foundations from which something like Drag Race would eventually grow. Drag Race is all very glossy and profitable and fun, but these balls were literally some of the only safe spaces queer people could not just exist peacefully, but also thrive and turn it the fuck out.
The moment-to-moment tone of Pose will feel familiar to anyone who's seen Grey's Anatomy or This Is Us, but it's the identities of the characters and the historical backdrop upon which its stories unfold that makes Pose feel vital.
Pose isn't another whitewashed mess like the much maligned 2015 film Stonewall, which was criticized for making the hero of the 1969 Stonewall riots a cisgender, white, gay man. Ball culture in the '80s — and therefore, drag as it exists today — was led by trans women and people of color, and Pose puts those people directly at its core. More than half of the cast and crew identify as LGBTQ. In fact, Pose features the largest LGBTQ cast on any mainstream scripted series — ever.
For Drag Race fans who aren't caught up on their history — like me shamefully, up until very recently — Pose is mandatory viewing.