Sad! Judge rules Trump blocking Twitter users unconstitutional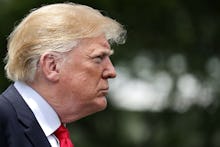 A federal judge on Wednesday ruled that it is unconstitutional for President Donald Trump to block people from his Twitter account, and ordered him to unblock those he has prevented from seeing his tweets.
"The blocking of the individual plaintiffs has the discrete impact of preventing them from interacting directly with the president's tweets, thereby restricting a real, albeit narrow, slice of speech. No more is needed to violate the Constitution," Naomi Reice Buchwald, a U.S. district judge in the Southern District of New York, wrote in her opinion.
The ruling marks the latest legal blow to Trump. The case was filed by the Knight First Amendment Institute at Columbia University, which represented seven people who were blocked by Trump's twitter account, @realDonaldTrump.
The seven people who sued over being blocked by Trump include a University of Maryland professor, a surgery resident in Tennessee, a songwriter from Seattle, a comedy writer in New York City, an author in Pittsburgh, a writer and legal analyst in Washington, D.C., and a police officer in Houston.
Also named in the lawsuit is Dan Scavino, who helps run Trump's social media presence. The judge said Trump and Scavino must "remedy" the situation by unblocking accounts.
"Because no government official is above the law and because all government officials are presumed to follow the law once the judiciary has said what the law is, we must assume that the president and Scavino will remedy the blocking we have held to be unconstitutional," the judge wrote in her opinion.