What did Melania Trump wear her 70th week as first lady? Your guess is as good as ours.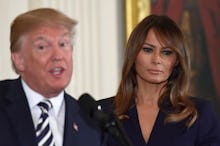 Yet again, we have a week in which we unfortunately cannot do our job. First lady Melania Trump has been MIA since entering the hospital May 14 for a procedure to treat a benign kidney condition.
Trump's husband visited her multiple times during her stay, and according to the first lady's Twitter account, she was "feeling great" after surgery.
She's made no public appearances since leaving the hospital.
"Great to have our incredible First Lady back home in the White House," the president wrote on Twitter the day of his wife's release. "Melania is feeling and doing really well. Thank you for all of your prayers and best wishes!"
(He spelled her name wrong in his first tweet, calling her "Melanie.")
Trump did tweet Thursday in support of the latest Medal of Honor recipient, who was hosted at the White House this week.
Of course, a person is expected to take time to heal after a surgery, but the recovery time could hint at something more serious.
There's also the chance Trump hasn't appeared in public not because she's still healing, but because she's just been busy doing something else entirely.
You can read previous recaps of what Melania Trump wore here.