Reports: Kushner granted permanent security clearance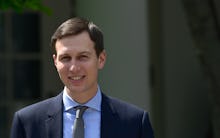 Jared Kushner — President Donald Trump's son-in-law and senior adviser — has been granted top-level security clearance, multiple outlets reported Wednesday.
"His application was properly submitted, reviewed by numerous career officials and underwent the normal process," Abbe Lowell, Kushner's lawyer, told the New York Times. "Having completed all of these processes, he's looking forward to continuing to do the work the president has asked him to do."
Kushner, who had been operating on a temporary security clearance for more than a year, had his clearance downgraded from "top-secret" to "secret" in February, which allowed him to access less-sensitive information but not the highest-level briefings he had previously been privy to.
The decision raised questions about Kushner's ability to fulfill his extensive White House job duties and whether the delay in securing permanent clearance was related to special counsel Robert Mueller's Russia probe. Kushner met with Mueller a second time in April and answered questions for seven hours, according to CNN.
"In each occasion, he answered all questions asked and did whatever he could to expedite the conclusion of the investigations," Lowell told the Times.
Kushner, who is married to the president's daughter, Ivanka Trump, has a broad portfolio of responsibilities in the administration, including overseeing the Middle East peace effort and essentially revamping the entire federal government. He used his interim clearance to read the president's daily brief and had requested more intelligence than any White House employee, other than National Security Council staff.
But Kushner's access eventually drew significant scrutiny because of a number of errors on his security clearance forms, including dozens of foreign contacts he had failed to disclose.
Among his undisclosed contacts was his presence at a Trump Tower meeting in 2016 between Donald Trump Jr., the president's eldest son, and a Kremlin-connected lawyer who supposedly had dirt on Hillary Clinton.
The meeting has long been of significant interest to Mueller, who is investigating possible collusion between the Trump campaign and Russia as well as possible obstruction of justice on the part of the president.
Kushner is also believed to be the "very senior" member of the Trump transition team who directed Michael Flynn to lobby Russia against a United Nations Security Council resolution concerning Israel in late 2016. Flynn was forced to resign as national security adviser just weeks into Trump's presidency over his contacts with then-Russian ambassador Sergey Kislyak; he later pleaded guilty to making false statements to the FBI.
It was reported in May that Kushner has faced additional scrutiny from Mueller over his business dealings with foreign countries.
According to the Washington Post, Kushner was granted permanent security clearance after "career officials completed the FBI background check process."