A Kentucky teacher defeated a prominent lawmaker in the state's GOP primary just weeks after strike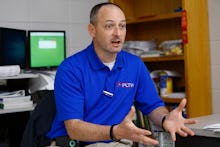 After Kentucky teachers walked out of schools in April to rally for pension reform and increased education funding, a Rockcastle County math teacher has narrowly defeated a prominent member of the Republican leadership in the state's GOP primary race.
According to the Kentucky Herald-Leader, preliminary results show that R. Travis Brenda, a math teacher and political newcomer in the state, upset House Majority Floor Leader Jonathan Shell in the Republican primary for the state's 71st House District. Brenda will now face Democrat Mary Renfro in the November general election.
In a note posted to his campaign's Facebook page Tuesday evening, Brenda thanked God for the victory.
"Thank you to all of those that have been a part of this campaign by helping knock on doors, putting up signs, sharing with friends and neighbors and trusting me with your vote," he wrote. "For those that did not vote for me, I hope to gain your trust as we move forward together."
Brenda wasn't the only Kentucky teacher vying for a seat in the state legislature Tuesday. According to the Associated Press, 16 other educators participated in Democratic or Republican primary elections Tuesday, with four squaring off against GOP incumbents. In total, the AP reported that at least 40 current and former educators filed to run for office in Kentucky in 2018.
Shell's defeat seemed to signal a sea change in the state, especially in light of the fact he had emerged as one of the primary stewards of the controversial pension reform bill that sent Kentucky teachers to the picket line.
It could also be a sign of things to come: Although strike tensions are cooling across the country as summer vacation approaches, teachers have vowed to continue their advocacy at the polls come November — a promise they made good on Tuesday, when dozens of teachers saw their own names on the ballot.