McDonald's shareholders vote against a companywide ban of plastic straws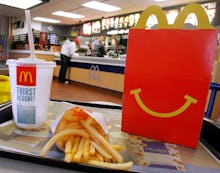 Banning plastic straws has been one central goal for environmental activists. Americans alone toss out approximately 500 million plastic straws every day, and the single-use items were found to be the fifth most common beach trash in the U.S. (Editor's note: The 500 million statistic originates from an informal survey of straw manufacturers done in 2011 by Milo Cress, who was 9 years old at the time. Cress has since told Reason that the National Restaurant Association has endorsed his estimates.)
At least for now, however, McDonald's, one of the world's biggest restaurant groups, won't join the anti-straw movement to help reduce ocean pollution. On Thursday, at the company's annual shareholders' meeting, shareholders voted against a proposal to phase out plastic straws from the fast food joint's 36,000 locations worldwide. The proposition only received 7.65% support from shareholders, according to Steve Easterbrook, president and CEO of McDonald's.
Before the vote, McDonalds' board of directors encouraged shareholders to vote against the ban, suggesting that the initiative would take resources away from the company's other environmental initiatives, like its pledge to source all of its packaging from recycled or renewable sources by 2025.
"[T]he requested report is unnecessary, redundant to our current practices and initiatives, and has the potential for a diversion of resources with no corresponding benefit to the company, our customers, and our shareholders, particularly in light of our ongoing packaging sustainability efforts," read materials shared with shareholders prior to the meeting, the Mercury News reported.
Not everyone sees the plastic straw issue as redundant. On Wednesday, the New York City Council introduced legislation to ban single-use plastic beverage straws and stirrers. More than 60 establishments in New York City have already done away with drinking straws, joining the growing international movement to cut back on contributing to the world's plastic waste crisis.
In April, the U.K. announced a ban on plastic drinking straws and all other single-use plastic items. All of the U.K.'s 1,300 McDonald's locations will be participating in the phase out process, starting by keeping straws behind the counter and requiring patrons to ask for them. In May, Vancouver, Canada, followed suit, passing a straw prohibition plan to take effect by June 2019. The city of Seattle will also ban straws, starting in July 2018.
The straws — many of which cannot be recycled — aren't only harmful to the planet: According to the Wildlife Conservation Society's New York campaign Give A Sip, "an estimated 71% of seabirds and 30% of turtles have been found with plastic in their stomachs. And when an animal ingests plastic, it's often fatal."
Plastic straws are particularly low-hanging fruit for environmental champions because there are so many eco-friendly alternatives, including straws made from paper, bamboo, steel, glass and much more.
Some opponents of the ban have argued that banning plastic drinking straws disadvantages people with disabilities. "It's a fundamental human right to be able to have a drink and to be able to drink it as and when you need to drink it, and to do it independently," Rosaleen Moriarty-Simmonds, who was born without arms or legs, told the BBC. While she said she'd support green alternatives, the current options aren't particularly effective for drinking hot beverages.
Disability rights group One in Five is campaigning for a suitable alternative before the bans take over. According to the group, metal straws can be a risk for those with neurological conditions. "Businesses are understandably responding to environmental concerns, but in reacting so quickly, the needs of their disabled customers risks becoming an afterthought," founder Jamie Szymkowiak told BBC.
July 16, 2018, 3:04 p.m.: This story has been updated.