White House caves to bipartisan FBI briefing, but will still have separate one just for Nunes, Gowdy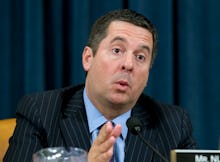 Welcome to Mic's daily read on Donald Trump's America. Want to receive this as a daily email in your inbox? Subscribe here.
Good morning from Emily Singer at Mic.
Here's what's happening in Trump's America:
• GOP Reps. Devin Nunes and Trey Gowdy will be briefed on the FBI's Russia investigation. A bipartisan group of lawmakers will be briefed later in the day.
About last night: Separate but (maybe) equal
The White House announced there will be two briefings for different groups of congressional leaders to learn about the FBI's Russia investigation: one for GOP Reps. Devin Nunes and Trey Gowdy and one for the so-called Gang of Eight — a group of House and Senate leaders from both sides of the aisle.
Nunes and Gowdy will be briefed first, at noon Thursday. The briefing for House and Senate leaders will take place at 2 p.m., according to Politico's Kyle Cheney. White House chief of staff John Kelly will be in both meetings, despite the fact the White House initially said Kelly would not be a part of them, Cheney reported.
"Tomorrow's meeting between chairmen Gowdy and Nunes and officials from DOJ, law enforcement and the intelligence community will be held at the Department of Justice," White House principal deputy press secretary Raj Shah said in a statement Wednesday night. "Congressional leadership has requested the bipartisan Gang of Eight meeting be scheduled before the recess. We are working to make that happen."
The separate meetings give credence to Democratic complaints that the briefings look like an attempt by the White House to politicize the FBI investigation further. Trump has already tried to brand the investigation as "spygate," claiming without evidence his campaign was spied on for political reasons by former President Barack Obama's Justice Department.
In actuality, the FBI used an informant to meet with members of Trump's campaign because the FBI learned Trump campaign aides had suspicious contacts with Russian individuals.
The Associated Press reported Trump wanted to use the term "spy" because it sounded more "nefarious."
Deputy Attorney General Rod Rosenstein and FBI Director Chris Wray agreed to Trump's demand to learn more about the details surrounding the informant. The only reason the Gang of Eight will be briefed is because Democrats demanded to be included.
It's unclear why Nunes and Gowdy need their own briefing and why the Gang of Eight would have to have a separate one. It also raises eyebrows that Nunes is part of the briefing.
Nunes has been a staunch defender of Trump and was forced to step aside from leading the House Russia investigation in April 2017 because he was accused of making "unauthorized disclosures of classified information, in violation of House Rules, law, regulations or other standards of conduct," according to the House Ethics Committee.
Today in Trump's America: North Korea says it destroyed its nuclear test site
North Korea claims to have destroyed its nuclear test site Thursday, ahead of a planned summit with President Donald Trump, the Associated Press reported.
North Korea did not allow international inspectors to investigate whether all tunnels in the nuclear site were demolished, so it's unclear if the country can make the site operational again in the near future, according to AP's report.
The development comes just as North Korea called Vice President Mike Pence "ignorant and stupid" for saying North Korean leaders could end up like Libyan leader Muammar Gaddafi. In 2003, Gaddafi agreed to give up his country's nuclear weapons program in exchange for sanctions relief, only to be found cowering in a drain pipe years later and killed by oppositional forces.
"As a person involved in the U.S. affairs, I cannot suppress my surprise at such ignorant and stupid remarks gushing out from the mouth of the U.S. vice president," North Korean Vice Foreign Minister Choe Son-hui said, according to the New York Times. "In case the U.S. offends against our good[will] and clings to unlawful and outrageous acts, I will put forward a suggestion to our supreme leadership for reconsidering the D.P.R.K.-U.S. summit."
It's still unclear whether the planned summit between Trump and North Korea will happen.
Trump was noncommittal about the meeting in an interview with Fox & Friends that aired Thursday.
"If that happens it will be a great thing for North Korea, most importantly it would be a great thing for the world," Trump said.
Capitol Hill happenings: Will moderate Republicans force an immigration vote?
Moderate House Republicans are four votes away from forcing a vote on a series of immigration bills, despite opposition from House leadership. Given that Thursday is the last day the House is in session before Congress flees town for the week-long Memorial Day holiday, all eyes will be on moderate House Republicans to see if they can secure the votes before the day is out.
If moderates force a vote, the bill most likely to emerge is a bipartisan compromise that provides some border security funding in exchange for codifying the Deferred Action for Childhood Arrivals program, which shields some undocumented immigrants brought to the U.S. as minors from deportation.
In an interview with Fox & Friends that aired Thursday morning, Trump said he won't sign the bill if it doesn't include the wall or border funding. He later added he won't sign any deal that doesn't include all his priorities — including ending family-based migration and the visa lottery system.
"I think it's time to get the whole package," Trump said.
And the rest…
Twitter: A federal judge ruled Trump must unblock people from his @realDonaldTrump Twitter account.
Jared Kushner: Trump's son-in-law received a full top-level security clearance, suggesting he might not be under criminal investigation.